MAAS is a hot topic for cities around the world right now. In the quest for becoming green cities with zero carbon footprint, City planners, public transport and private actors try to work closer on making it painless and seamless to come from A to B using a variety of shared transport options.
The idea is that mobility should be a utility service like water, power, internet etc. Once you have paid or agree to will pay for mobility services in your city, you just use what are the best available transport mode options when going from A to B.
This is the first of a planned series of articles to explore the benefits and challenges of reaching true MAAS. To get some data and real life examples Copenhagen, Denmark is chosen as a candidate for introducing tools for mobility as a service.

Please read the following as an illustration of the services you can find in a city. The description and suggested fits for specific mobility requirements will vary based on individual preferences to service quality, travel time, cost etc.
Let us start from the user angle. Copenhagen has a variety of different modes of mobility services available to the public offered by public and private actors. In the public ECO system, MAAS has actually been working for years in the form of a season pass which grants you unlimited multimodal travel within a specified area (zones). However, it does not include private operated modes of transport.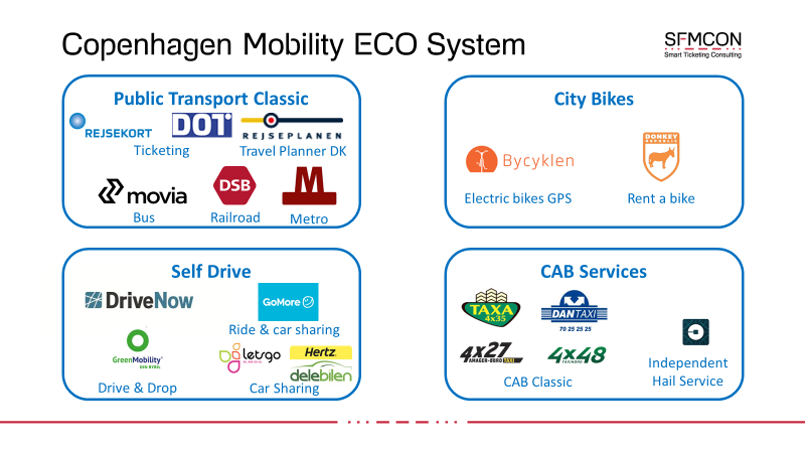 An overview of the various modes of shared mobility modes available today in Copenhagen. See link references in the end of the article
The advent of mobile apps and cloud based solutions has opened for a wide range of public and private operated mobility schemes in Copenhagen.
Public Transport Classic (Copenhagen Municipality data for Commute in and out: 25%)
Public Bus, local train, metro and train services are available in Copenhagen. The public transport operators jointly operate fares and ticketing schemes (DOT) and a real-time travel planner (rejseplanen) available on all digital platforms. Tickets are available on mobile platforms, traditional paper based cash tickets and season passes plus the nationwide smart card Rejsekort. In central Copenhagen, the distance to nearest bus stop or station is relatively short. Moving away from the center you must walk longer to get to a station or bus stop and the frequency of service is lower – like what is seen elsewhere.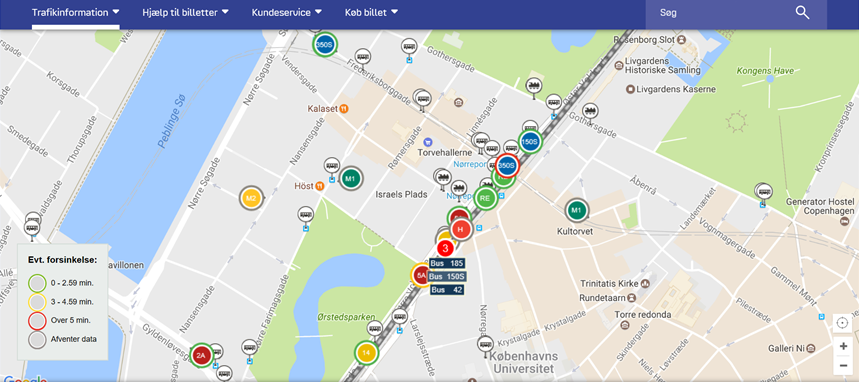 Live map of Public transport in Copenhagen. Source: DOT
Self-Drive
Self-drive requires that you have a valid driver license and are willing and capable to drive.
Drive & Drop (Drive Now (400 cars) and Green Mobility (150 cars)):
You can find and open Drive & drop car using your mobile. Drive to your destination within the operating zone and drop the car at a public parking space (2-hour parking minimum) or at a charging station. You pay a fee per minute. The operating zone includes Copenhagen Airport. Drive & Drop can be an alternative to and priced lower than cab and Uber.
Ride & car sharing (GoMore – 67.190 cars to share and 557.897 members in DK)
Car owners and people in need of a ride can meet and agree on sharing rides on the GoMore platform. Car owners can share their car with other members of GoMore typical for one or more days. GoMore also offers car leasing including extra kilometers for sharing. Ride share is best suited for longer trips where there is time to plan and find a matching ride.
Car sharing (Hertz Delebilen and LetsGo + other)
You reserve a car for a period and open the car using your mobile. The car is picked up and returned at a designated place. You pay a price per hour + a price per kilometer you drive. The prices include fuel.
Car sharing is best suited for shorter trips up to one day where you need more seats or capacity to move stuff you typical put into the trunk.
Traditional car rental (major and local brands):
If you need to go on a trip longer than one day and train or bus does not cover your destination you can rent a car and get one that specifically meets your transport requirements. Car rentals can be a better deal than car sharing if you need a car for one full day or more.
Your own car (Copenhagen Municipality data for Commute in and out: 41%):
The comfort and convenience of your own car has proven difficult to beat when travelling from A to B. You have committed to the car by entering a lease or buy contract, so you basically only see the cost of fuel in your daily use. In cities, however congestion, traffic jam and the hunt for a parking space + a steep price for parking can result in leaving your car at home or at a commute parking lot and convert to using shared or public mobility solutions. Most car commuters though are living with the daily queuing in and out of the city, stop and go traffic and hunting for a parking space. Companies often offer parking spaces for employees, which of course make it easier to decide on a car commute.
Bikes
Private owned Bikes: Copenhagen Municipality data for Commute in and out: 34%):
In Copenhagen, private owned bikes are playing a real role in reducing the carbon footprint of commuting. Per statistics from the municipality of Copenhagen and DTU 34% of all daily commute to school and work in and out of the municipality is powered by human energy riding bicycles.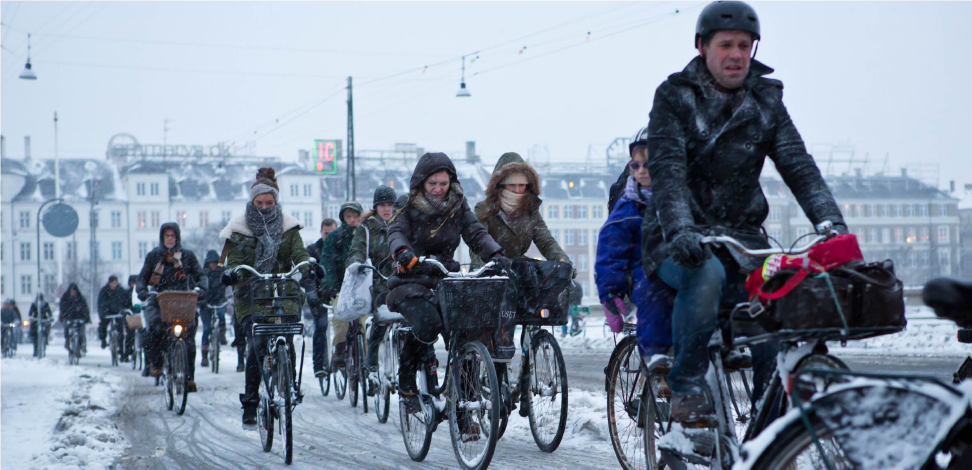 Bicycles used year round…..   Source: Copenhagen Municipality "Cykelredegørelsen 2016"
Electric Rental Bikes (Bycyclen):
Electric bikes are available from 103 docking stations scattered around Copenhagen and Frederiksberg. You can sign up and go from the tablet on the bike. The tablet also doubles as a GPS. Pricing includes pay as you go and subscription services. Bycyclen can be returned at any of the docking stations. The concept is becoming more popular. Bycyklen logged 3,7 million kilometers of usage in 2016.
Rental Bikes (Donkey Republic):
Rent a standard bicycle, find it on the map in app and unlock the bike using your phone (Bluetooth). Ride along and return the bike at the pick-up location at the end of the rental period. You can put your own bike on the platform by a small investment in a Bluetooth operated lock. Most rental stations are hotels and businesses for renting bikes to tourists and visitors.
CAB services
Classic Cab Services: (4×27, 4×35, 4×48 and DanTaxi). The traditional way of getting a cab is calling a phone number or hailing on the street. However, the Cab companies in Copenhagen now all have apps, where you can order a cab. Some also includes payment options.
Independent Hail Services (UBER):
Uber is active in Copenhagen and being used. However, the service has issues with the Danish legislation and are right now not a legal alternative to a classic cab ride.
Going from A to B in Copenhagen using the available options listed.
The common nominator is that all transport modes can be planned, accessed and paid for from a mobile phone app. Typical you must enter information about from, to and when and most of the apps has map support identifying location of start point for using the service. Payment is mostly supported through accounts secured by a credit card, the dankort debit card or some even mobilePay (direct account to account money transfer using mobile numbers as token for the accounts) .
If you have decided on a single modal use you know how to proceed. However, there might have been better options using multi modal services. This can be seen for the public transport modes where Rejseplanen (The travel planner for Denmark) can deliver various options to move from A to B based on you criteria's. By adding the private operated options, the complexity grows and now you can choose the best, fastest and cheapest option to go from A to B.
Without travel planning and MAAS guidance and support you have to figure it out by joggling 15-20 separate apps and in the end settle on a few favorites.
MAAS Services
The concept of Mobility as a service is a common platform where you can get a complete overview of your options of mobility modes to get you from A to B, both in term of real time travel planning and single point of payment. Payment can be various subscription packages or pay as you go.
MAAS is a new concept with potentials to make mobility in cities more seamless, but is still in the proof of business phase. To my knowledge only limited trials and pilots of MAAS have been accomplished and the real breakthrough of MAAS including user adoption and big scale operational data and experience has yet to materialize. Several cities in Europe and the Americas have MAAS developments of various levels and business models in the works.
It basically boils down to how do you combine public and private operated mobility services in a single user oriented service. The technical part may be doable using cloud based systems and mobile apps, open data and open API's.
The real difficult issue is to establish a public/private governance structure that can establish MAAS services and create the necessary value in the operation to support the required organization and system operation. At the same time the MAAS organization needs to be agile in adapting to the evolution of mobility mode options in the future.
So, who is the boss of a MAAS operation and how do you manage a MAAS operation in a city? This is a topic for a future article on MAAS.
Can you navigate in the current mobility eco system in Copenhagen?
I have just finished a lease period for a car and decided to try to manage without my own car. Living only 5 km from Copenhagen city center I have access to all the mobility options listed. Both my wife and I use our own bicycles daily year-round to and from work and for errands in the neighborhood.
Bus, and train services are only 5 minutes' walk from home, metro 12 minutes. As the bicycle is my primary way of commuting I have no need for a monthly pass to the public transport. Rejsekort is used to pay as I go for trips using public transport.
Drive & Drop to and from Copenhagen Airport is a tempting option for me. Faster than even Metro, cheaper than a cab and even cheaper than using Uber. I typical walk between 0-10 minutes to the nearest available car. Returning from the airport I park outside my house. The car "disappear" typical within 1-2 hours. You will still see me in train and metro to the airport some of the time though.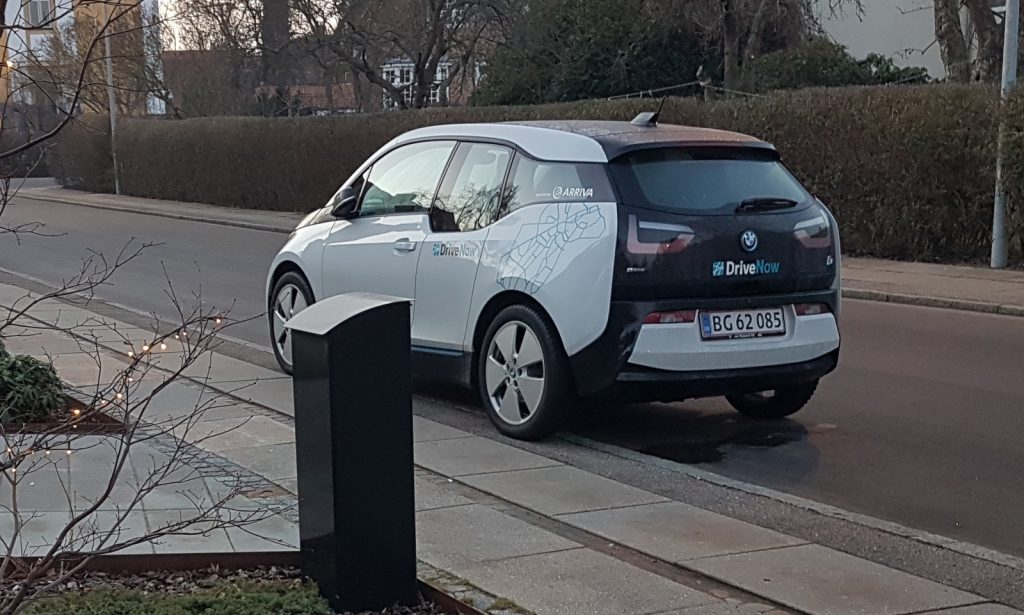 Once a week on average I use car sharing services (4-10 hours) for going to for meetings, big time shopping or visits.
For weekend trips and vacation mobility is handled by a rental car.
Cab services is seldom used, but convenient late evening or night or for a fast door to door service.
The experience so far (2 months) is that it is doable (for me) to survive in Copenhagen without a car. More active walks during a day plus I do not spend time on cleaning, refueling and washing a car. Finally going from fixed own car costs to shared mobility as you go is also an overall cost saver for me.
Could MAAS make it easier for bicycle commuters to utilize the shared mobility options available?  Here are a few items where MAAS services could fill a gap:
To fully navigate and pay you need 20-25 different apps on your mobile
For each self-drive service, you need to document a valid driver's license
Your payment card details need to be provided and updated on expiry for each mobility mode account.
You can only see your public transport options in the Rejseplanen travelplanner. If you want to combine private modes with public transport you are into a major planning exercise joggling around in the mobility apps.
You need to check two apps to see which drive and drop car is closest to you (both displayed on a google map)
Which cab is closest to you of the four companies for fast pick up?
You have no total overview and history of your cost of mobility except of individual charges to your payment card.
Are you getting the best mobility service possible from A to B at an acceptable/best price?
What should MAAS deliver to increase use of shared mobility services in cities. A separate article will discuss this further. Keep an eye on my blog on www.sfmcon.com  or follow sfmcon on linkedin.
Please share any thoughts or experience you have on surviving without a car but relying on shared mobility in your city.
Links and references:
Other sources of data: