Takeaways from the 2nd Annual Conference: MaaS and Openness in London Sep 26, organized by Travelspirit.
Why is MaaS dependent on open data? Is your city ready for MaaS? Two major questions for the day.
The Spirit of TravelSpirit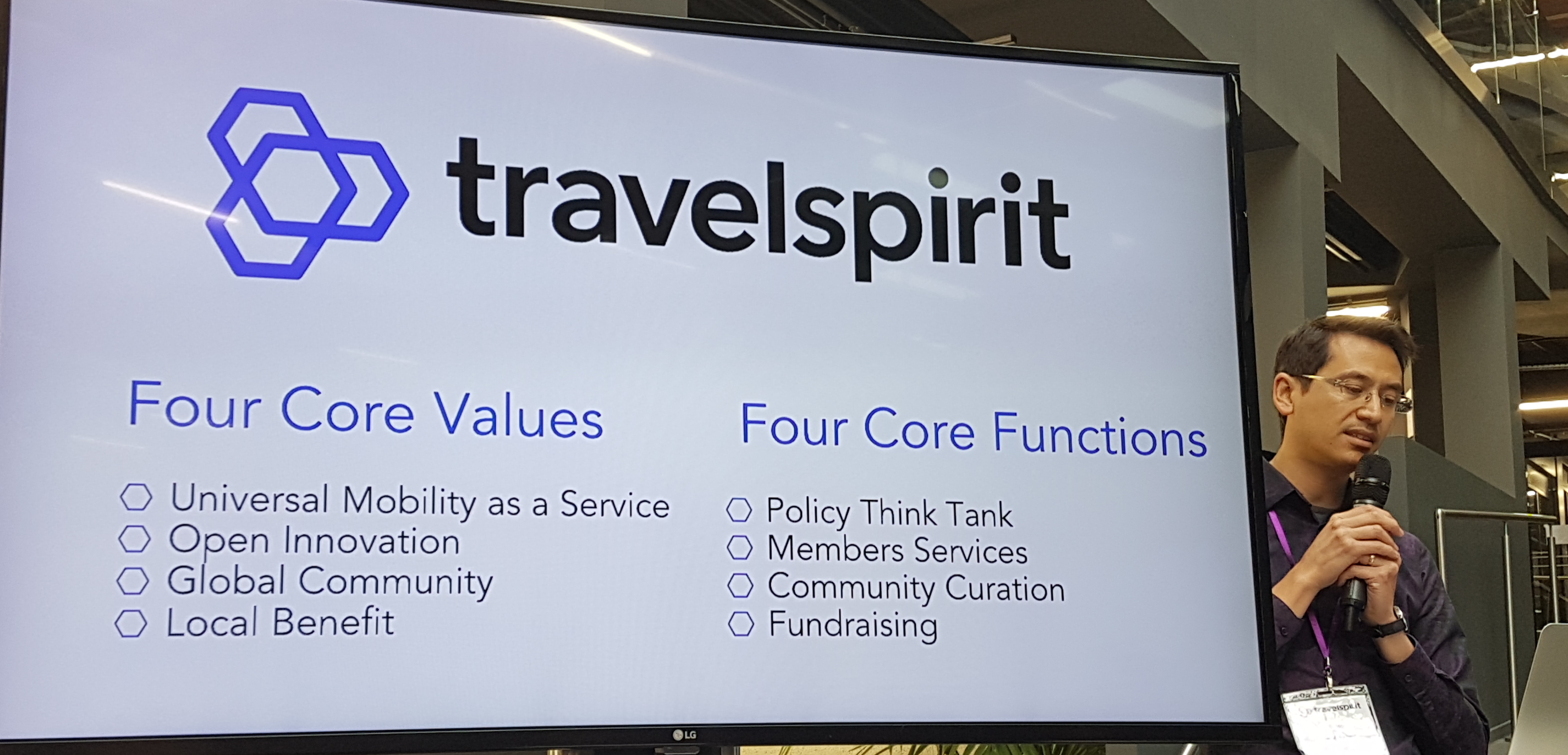 The core of TravelSpirit presented by Si Ho, chair of TravelSpirit Foundation
Established in Manchester, UK in 2016 the TravelSpirit Foundation aims at providing an open framework to ensure that new integrated mobility services are universally accessible.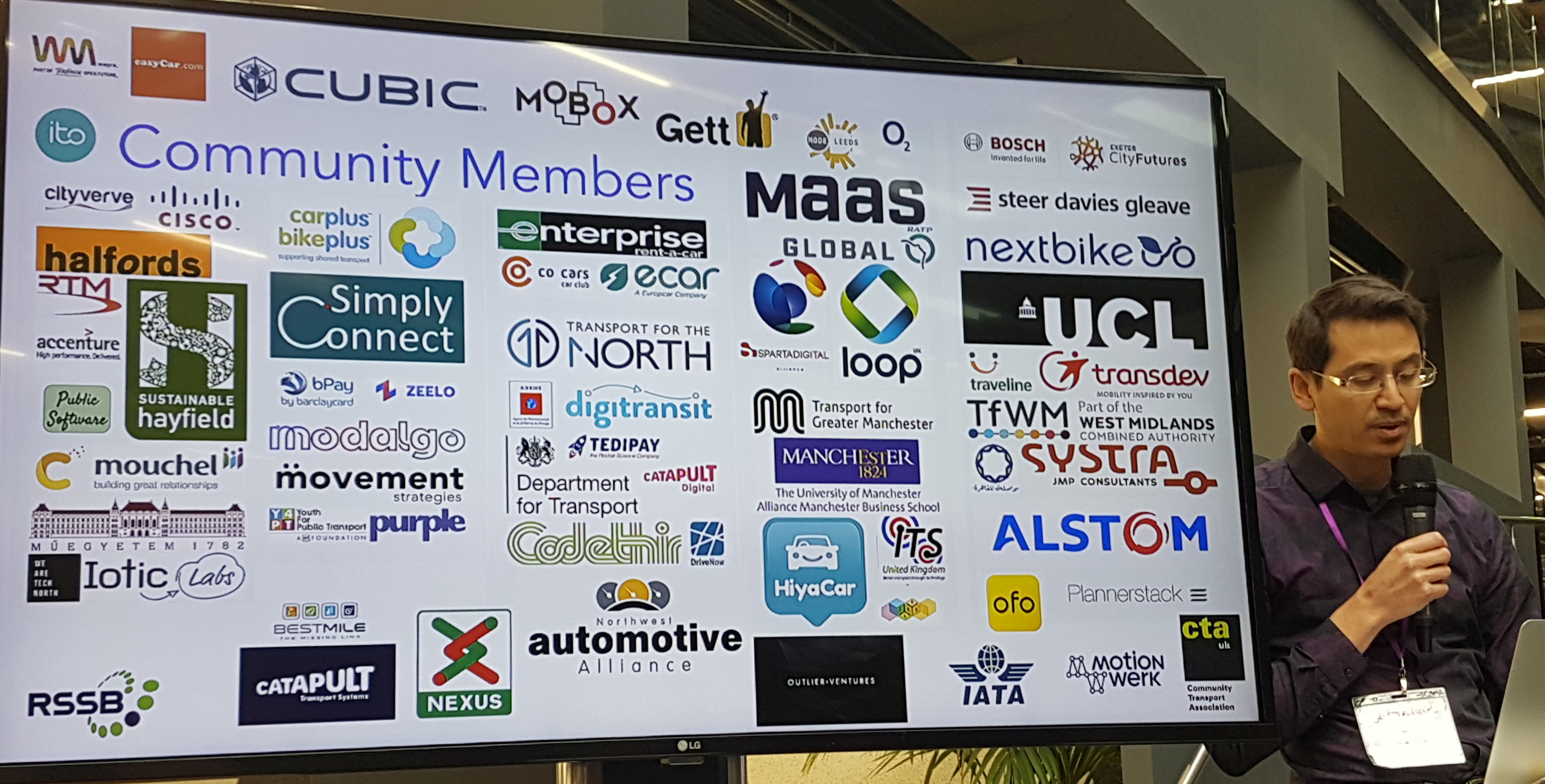 Quite a few supporters behind the Travelspirit Foundation as introduced by Si Ho, TravelSpirit
Comment: TravelSpirit is targeting the need for open innovation to get Mobility as a Service to flourish. Its members and supporters span the mobility actors in a very broad sense indeed.
The vision of using mobility as a service requires quite a lot of change of mindset individually, as actor and especially as regulator of mobility. Until now it has been simple – either you use your private owned car, regulated Taxa services or you use public transport. Public transport wants to win you over and car owners want to use their personal investment in door to door mobility.
Now a transition has started to see mobility as a service rather than an ownership. We think we can see how platform tech, open data, Open API, third party bundling, aggregation and sale of mobility subscriptions can create an open market for mobility services. The stumbling blocks are that the mobility service providers, whether public or private mostly operate in closed data and no sharing mode – a.k.a. siloes.
This is why organizations like TravelSpirit are needed to facilitate and stimulate the transition from closed to open.
Loose £15bn or win £14bn per year by 2025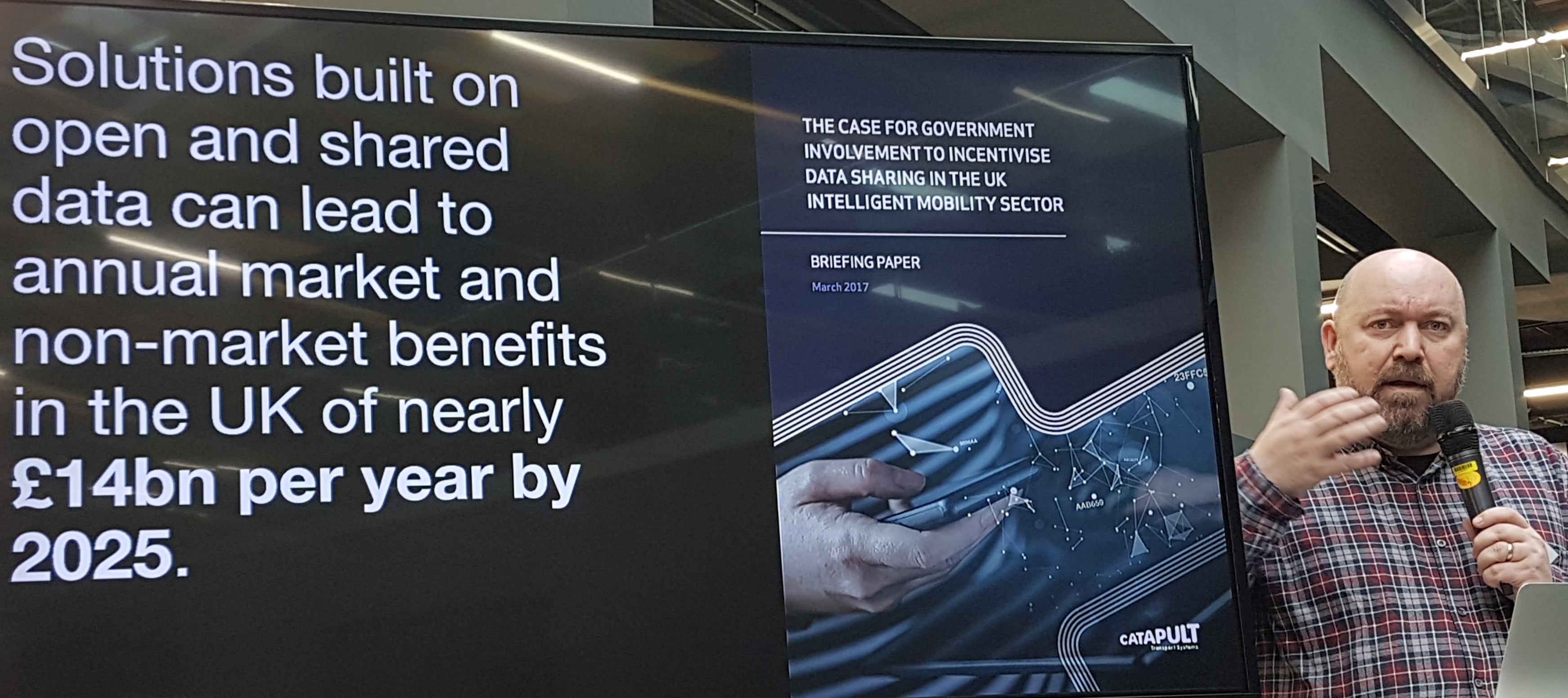 There is money in use of open data. Source: Transport Systems Catapult and ODI presented by Peter Wells, Head of Policy, ODI
Interesting speech by Peter Wells highlighting the findings presented in "The Case for Government Involvement to Incentivise Data Sharing in the UK Intelligent Mobility Sector" A Transport Systems Catapult and ODI Briefing Paper, March 2017. Well worth a read – also outside of the UK.
Basically, if the UK intelligent mobility sector continue with closed systems the result may be a loss of £15bn annually by 2025 compared to today. However, If the sector opens up and build on open and shared date the report states a potential for an upside of nearly £14bn annually come 2025.
Comment: If the findings in the briefing paper resonates with reality and how you see the future for intelligent mobility solutions and ecosystems, this is definitely a call for action to radically rethink your business model for shared mobility from a closed to open setup.
Don't sell data, sell services.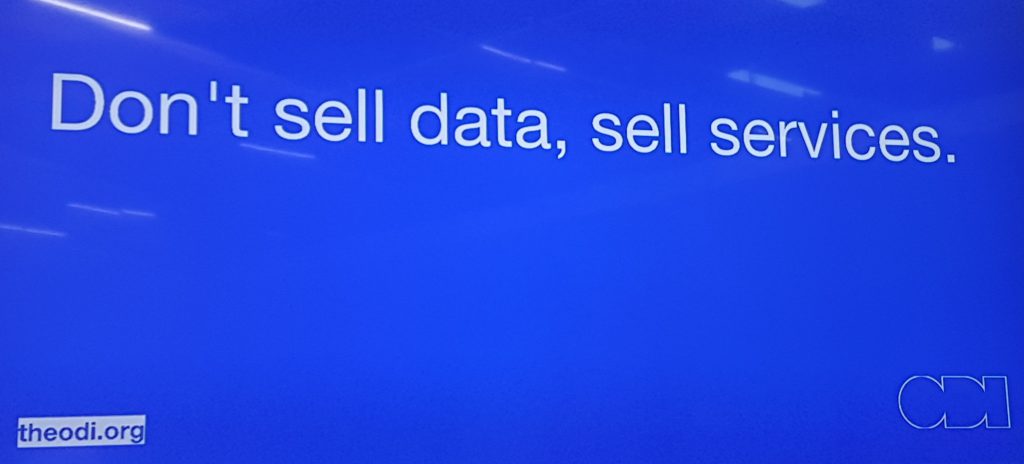 The money is in service. Data is the infrastructure enabling services. Peter Wells, Head of Policy, ODI
Peter Wells made a case for stop seeing data as oil and something to monetize on. Regard data as infrastructure to build and sell services upon.
Data ethics are crucial to an open data ecosystem.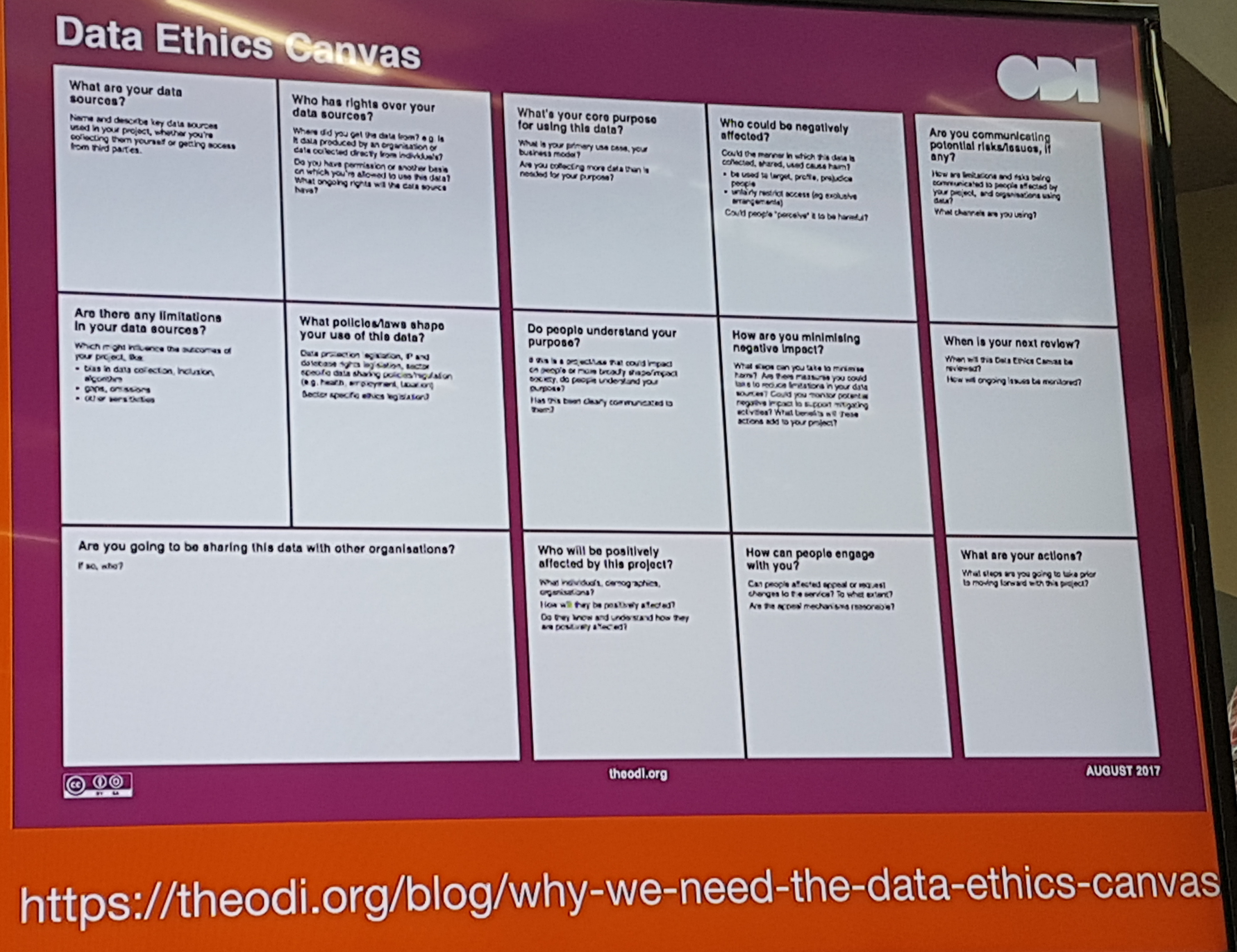 A good template for a 360-degree ethics evaluation of the need of a set of data. Check the web blog reference for more. Presented by Peter Wells, Head of Policy, ODI
West Midlands piloting MaaS in cooperation with MaaS Global.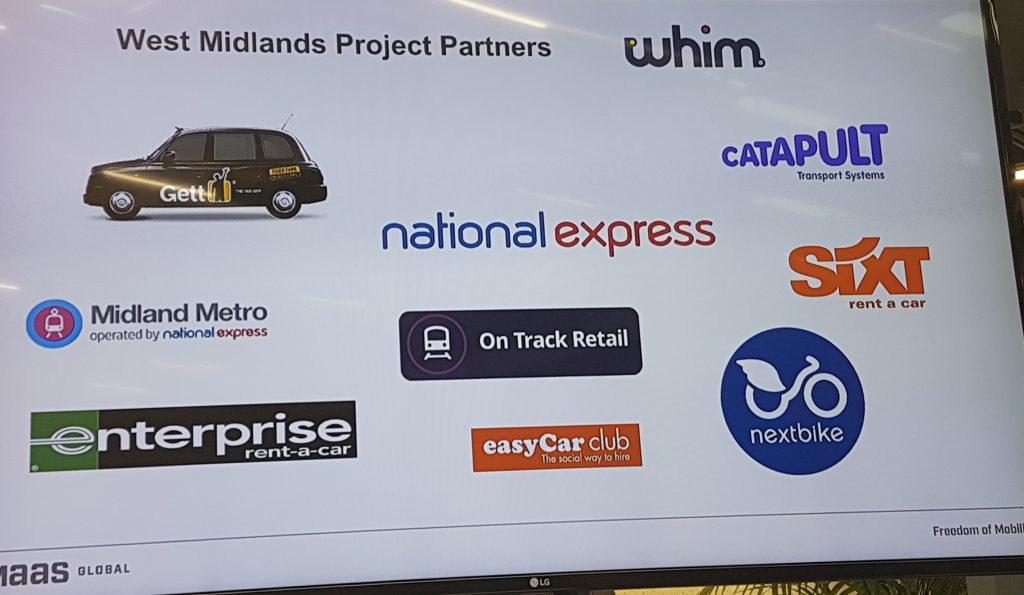 MaaS Global participating in West Midland MaaS Pilot project. Source: Stephan Anescot, MaaS Global
MaaS Global is piloting its Whim app as part of a West Midland MaaS project. Looking forward to the findings from the project. Alpha test was reported in progress.
Being closed leads to lock in and lack of competition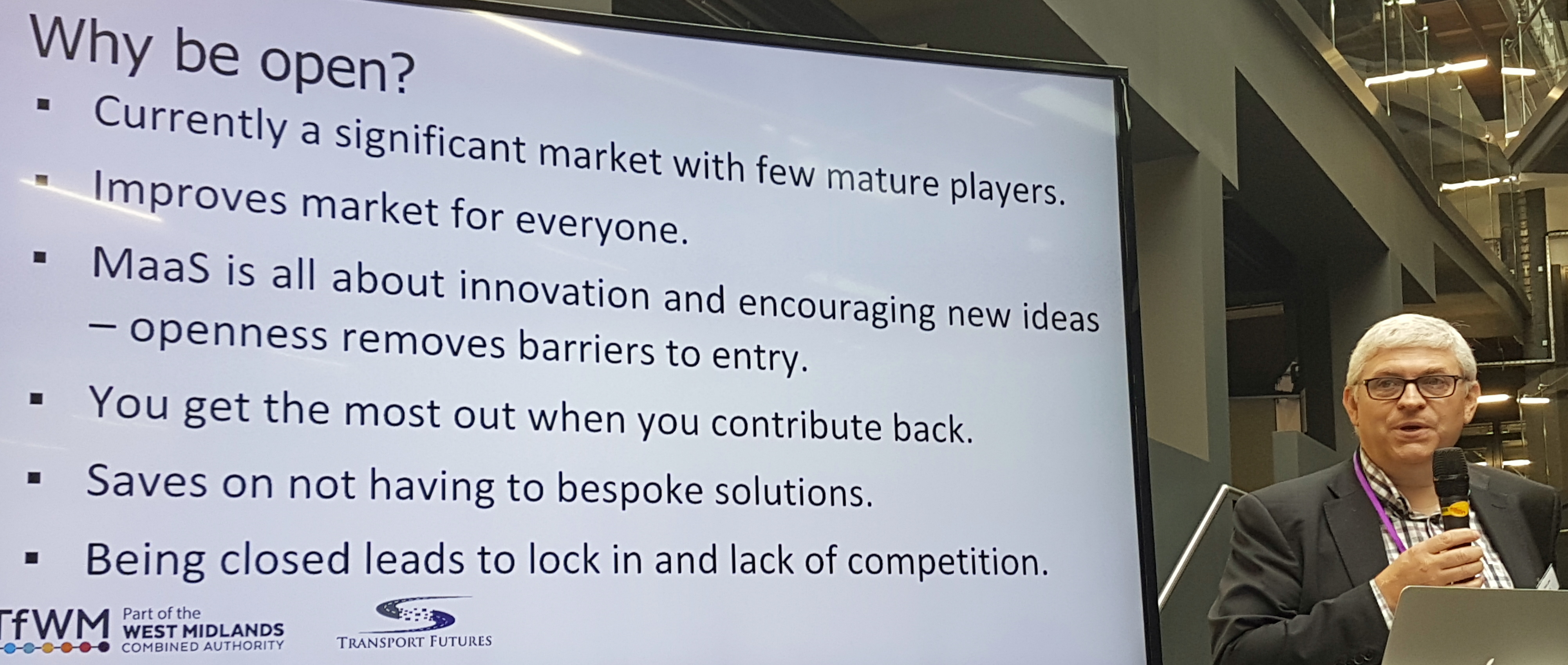 The reasons why TfWM promotes open data for Mobility presented by Chris Lane, Head of Smart Travel, TfWM.
It seems like The West Midlands is fronting the quest to reach an Open MaaS Ecosystem in the United Kingdom. The why's to be open look familiar to other regions arguments to work towards an open mobility as a service market.
Comment: Seen from the outside it seems like there is a movement going on in the West Midlands to combine the efforts of regulators, University research and privat enterprises to close the gaps to build an open  MaaS infra structure. It would be interesting to learn what ignited this movement and whether the concept can be transformed to other regions in the UK and abroad.
Still, the critical mass for MaaS is somewhere in the future. The world has yet to see the clear evidence of benefits, better services and higher market share  for customers, transport operators, regulators and MaaS providers. The next few years will be very exiting for the shared mobility business indeed.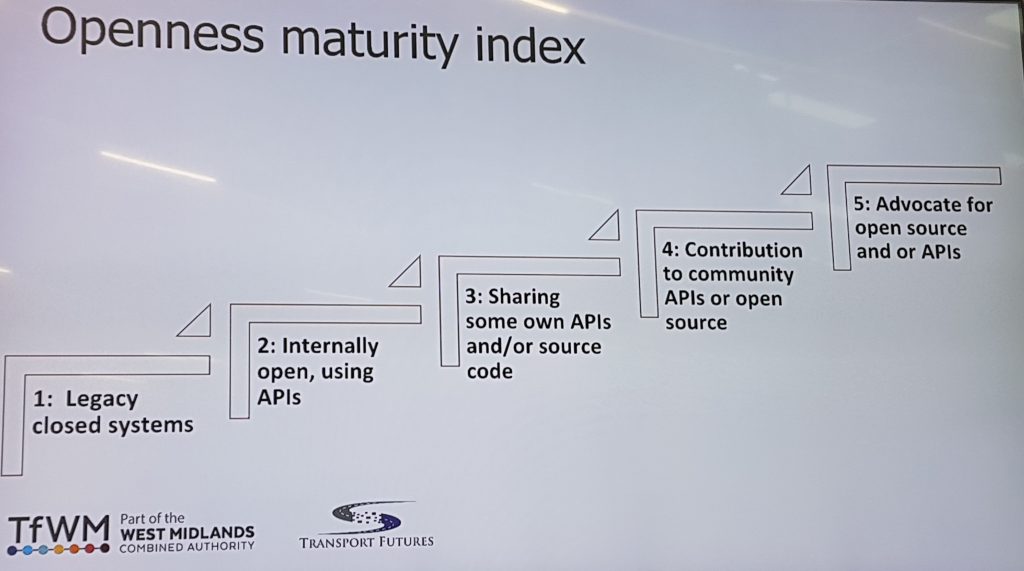 Openness maturity Index as presented by Chris Lane, Head of Smart Travel, TfWM.
Comment: The Openness maturity index overview provides a good introduction of the journey shared mobility actors and regulators have to perform to make the foundation for open MaaS. Try to position the various mobility actors in your vicinity to get a first score of the challenges your city, region or country will be facing.
MaaS Readiness Maturity Index – The tool and results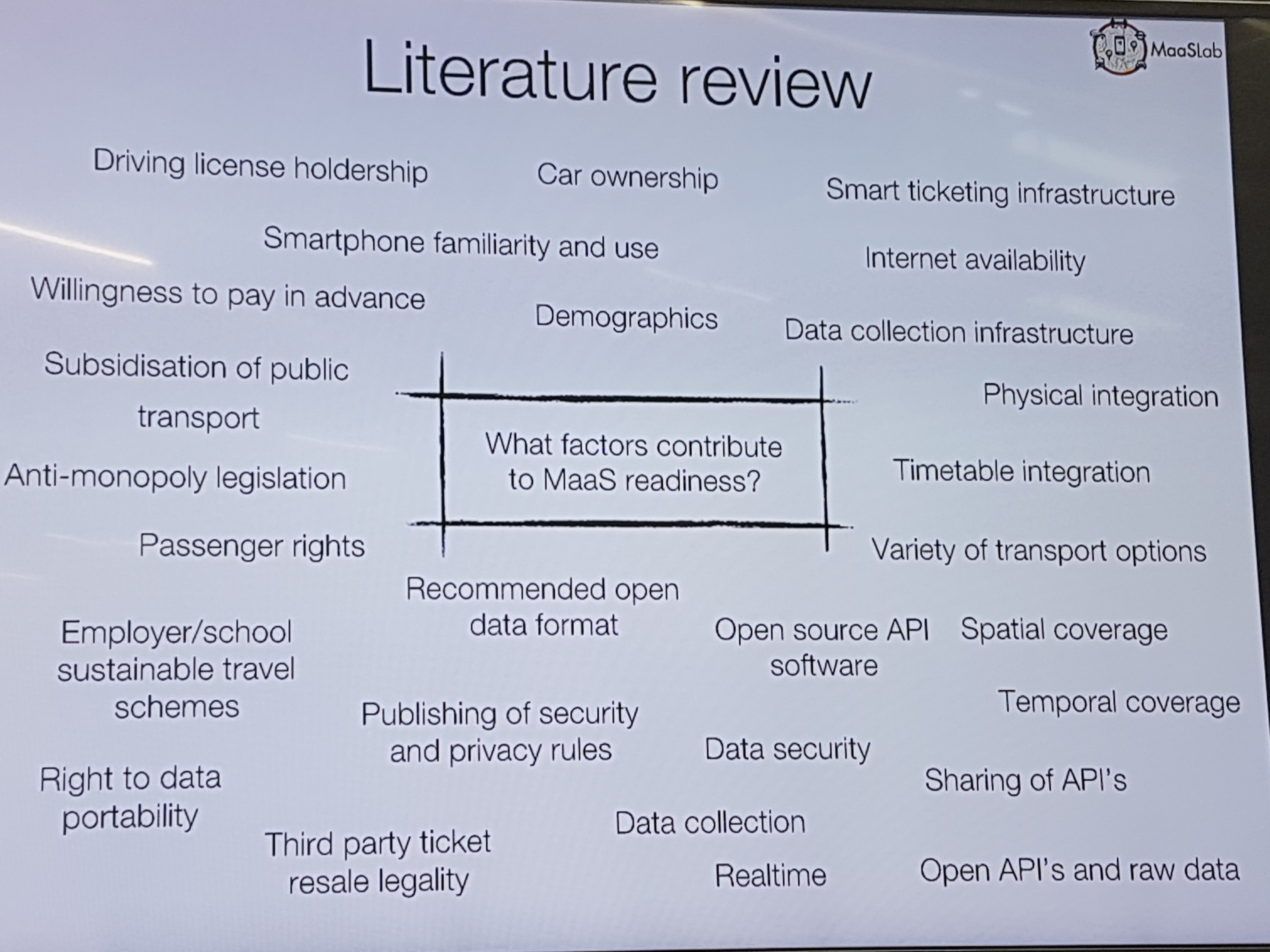 Factors contributing to MaaS readiness presented by Richard Goulding, Researcher, Maas Lab, UCL Energy Institute
The team at MaaS Lab attempts to measure the MaaS maturity by evaluating a broad variety of factors which constitute the necessary framework for open MaaS to evolve. At the conference the first analysis for London and West Midlands were presented.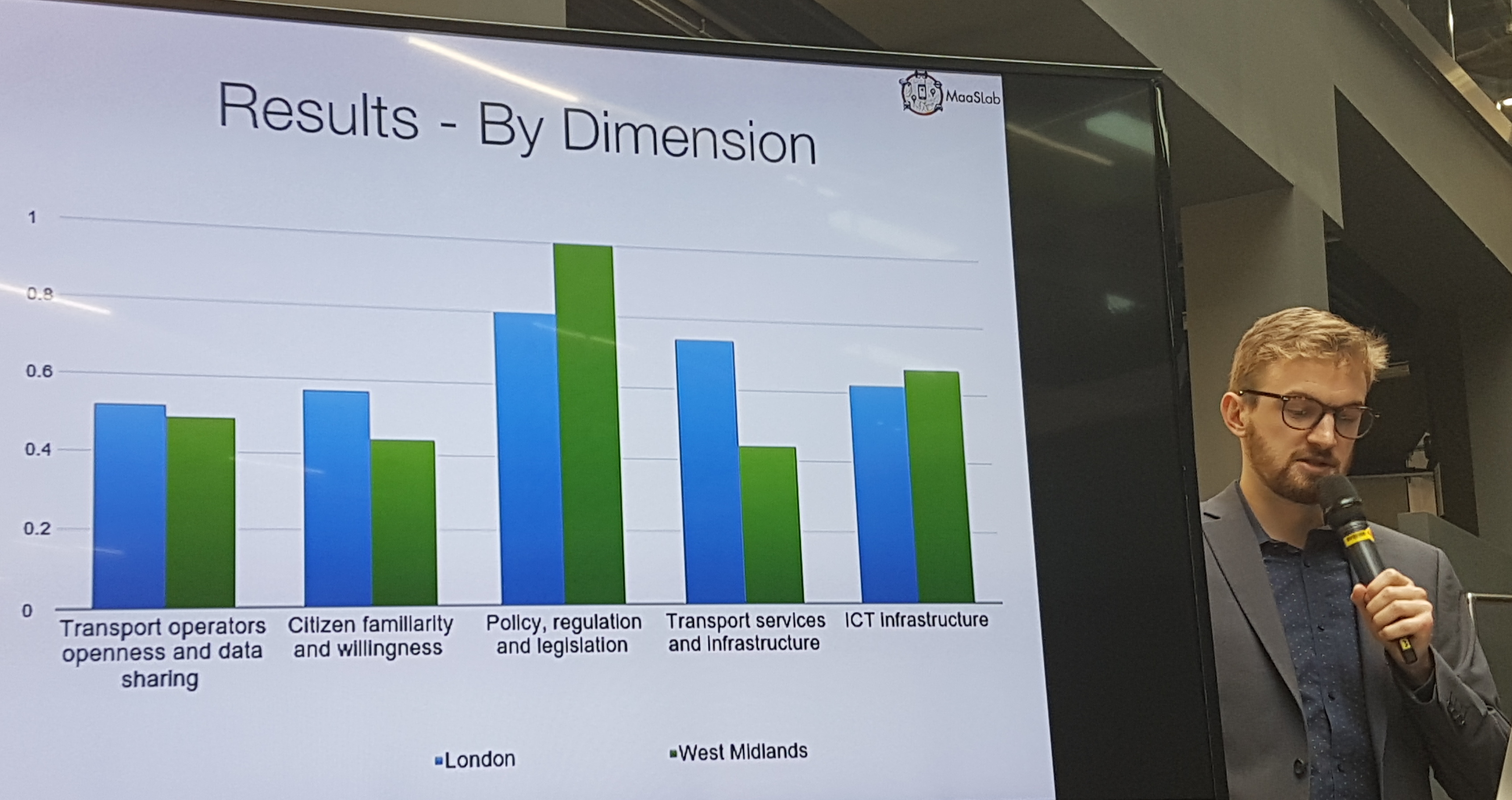 Result from applying the MaaS index analysis on London and West Midlands presented by Richard Goulding, Researcher, Maas Lab, UCL Energy Institute
Given the index method is valid it seems that it can help figure out which areas you need to find and fill gaps to reach the necessary level og maturity for the MaaS ECO system to materialize and grow.
Comment: I look forward to study the method further and evaluate its applicability for other cities and regions. I hope that TravelSpirit and MaaSLab will publish the method and results in full soon.
Final words
Thank you to TravelSpirit for a well-organized event and proud to be part of the panel on MaaS. Really looking forward to follow the quest of reaching MaaS in the UK.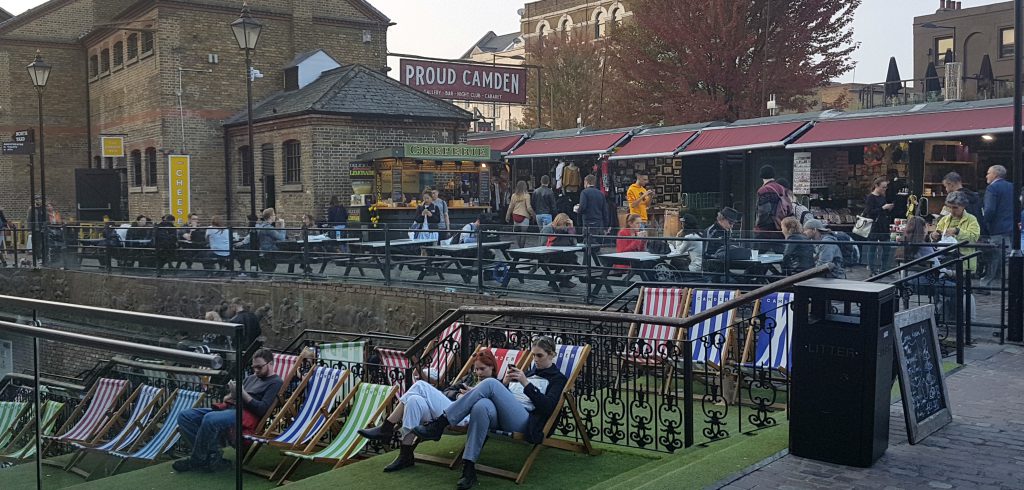 The setting for the conference was in the Atrium, Camden Market – the right spot for exploring the future of mobility amongst young people, startups and a market for almost everything. Inspiring.
Further discussion and contacts:
How do we best accelerate use of shared mobility to reduce congestion and improve air quality in cities? Where to start and what are the pitfalls. Follow my blog here and updates on LinkedIn.
My mission is to help facilitate better shared mobility and MaaS in cities and even in rural areas.  What is your challenge on shared mobility? Take the opportunity to open a dialogue directly with me here or email directly here.