This year the conference introduced a well-attended MaaS track.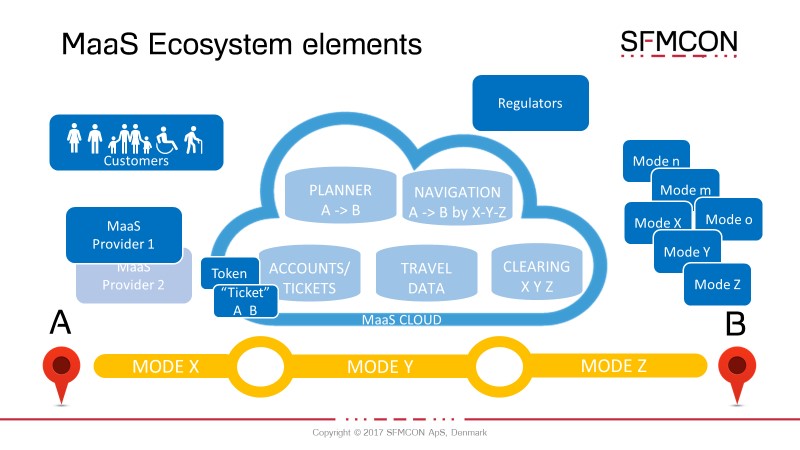 The Elements of a MaaS ECO System   Source: Søren Sørensen SFMCON
For decades the public transport industry has come to conferences like this to seek the holy gral for how multimodal ticketing should materialize. Cities have had some kind of success, yet only two countries can claim nationwide multimodality for public transit: The Netherlands and Denmark.
Common for the current generation of multimodal systems are closed systems, vendor locked and only for public transit.
Now MaaS is presented as the way to create an open market for all shared mobility modes whether public or private – and it is coming to your area soon.
Takeaways from the MaaS track of Intelligent Transport 2017
The MaaS keynote was presented by Kaj Pyyhtia, CXO MaaS Global. Originating in Finland MaaS Global is now exporting the model of mobility as a monthly subscription service aiming at delivering a mobility package attractive enough to make you drop ownership of a car.
Take Away #1: MaaS Global decline to participate in bids for MaaS driven by public authorities.
The Whim App.  Source Kaj Pyyhtia, MaaS Global
The recommendation from MaaS Global is to use open data and open API to enable the MaaS provider(s) to establish the MaaS services on commercial conditions.
Comment: The strategy of no public procurement for MaaS services becomes law in Finland effective January 2018. Public regulation should more focus on regulating a fair market place for shared mobility services. Public institutions can enable and stimulate the MaaS ecosystem simply by buying its mobility services through the MaaS value chain. Also known as "prime the pump".
Take Away #2: Co-Design: Engage people in design of MaaS solutions to understand the users real priorities.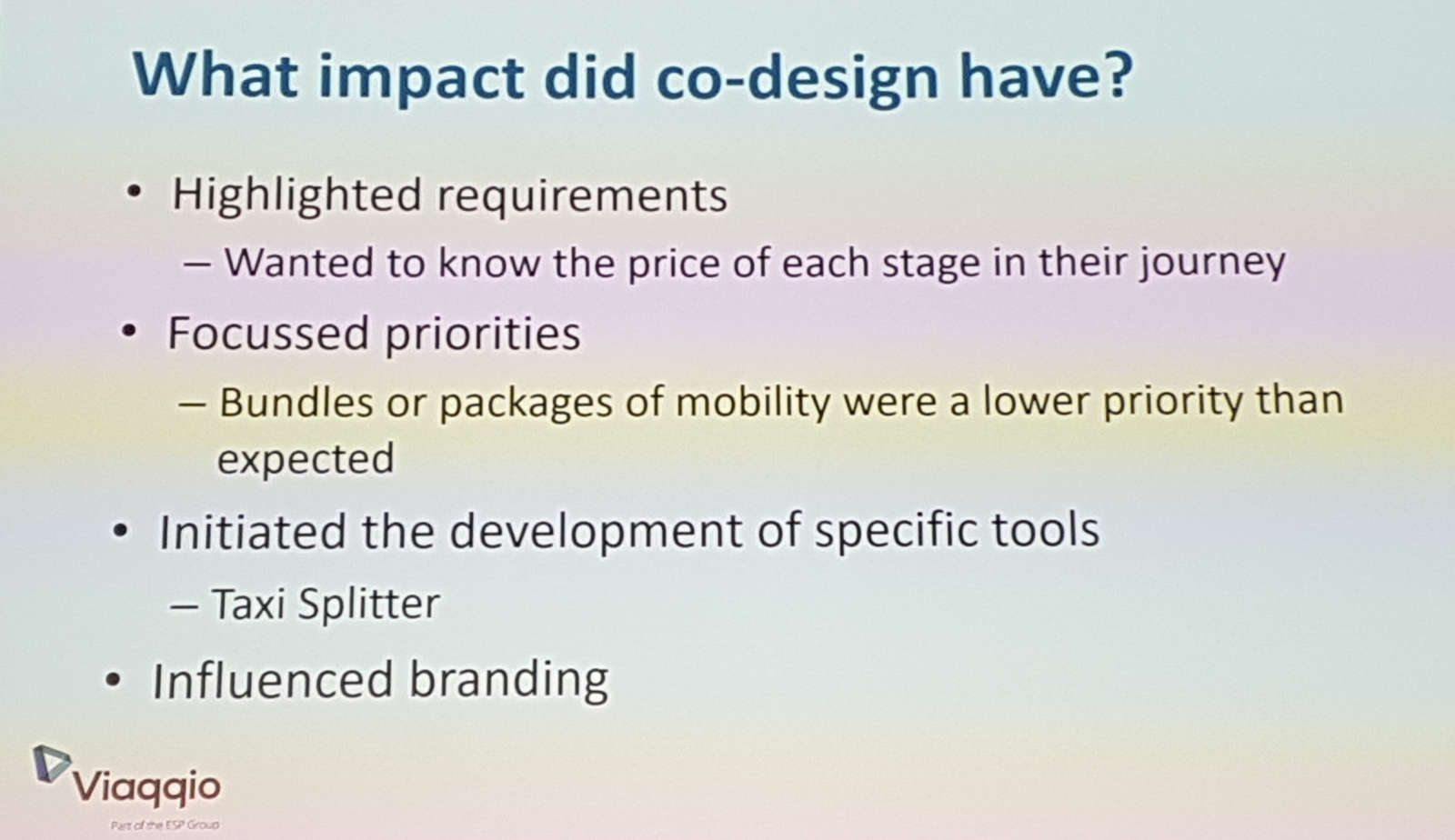 Impact of co-design     Source: Beth Garner, ESP Group
Beth Garner, ESP group shared the positive impact of involving real users in the design process of a MaaS app. It turned out that users had other priorities than expected by the project team. Packages of mobility were a lower priority whereas detailed price breakdown was important. And the users gave birth to a new feature – the taxi splitter – a feature which helps a group sharing a cab to split the cost of the ride.
Comment: Predicting user acceptance of new services and functions is a risky business. Interacting with users throughout the development proces using agile methods and fast prototyping reduces the risk of the program.
Take Away #3: MaaS driven by regional transport and private companies, sharing the vision of creating MaaS in Scotland, went from 0 to 54 members within a year. 10 projects launched already.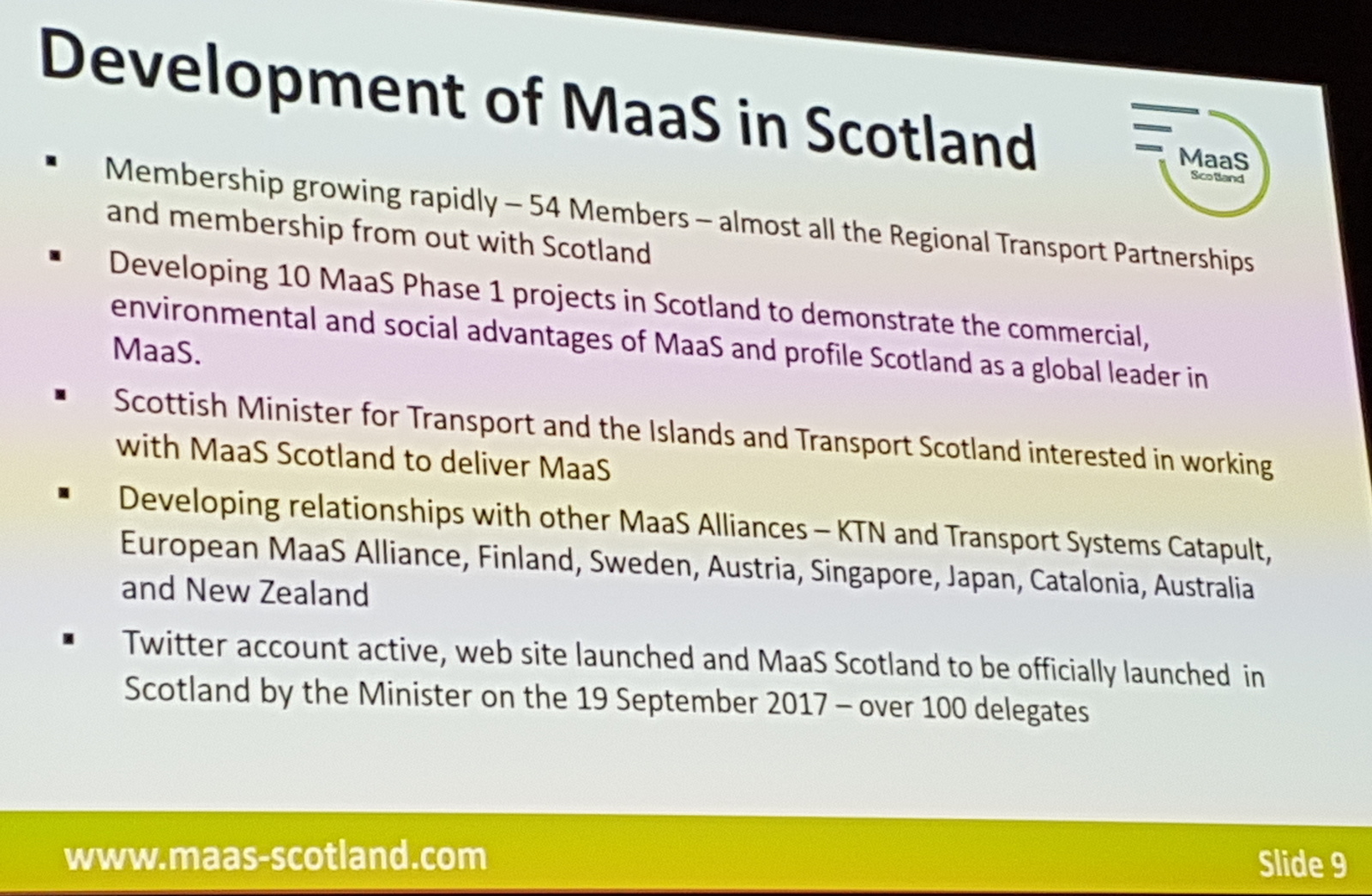 Fast track for MaaS development in Scotland  Source:  George Hazel, MaaS Scotland
There are many ways to foster the idea of MaaS. In Scotland it is driven mostly by the transport industry and IT-tech companies and occasional Whisky receptions.
Take Away #4: A transport authority can act as a facilitator of creating MaaS without procurement.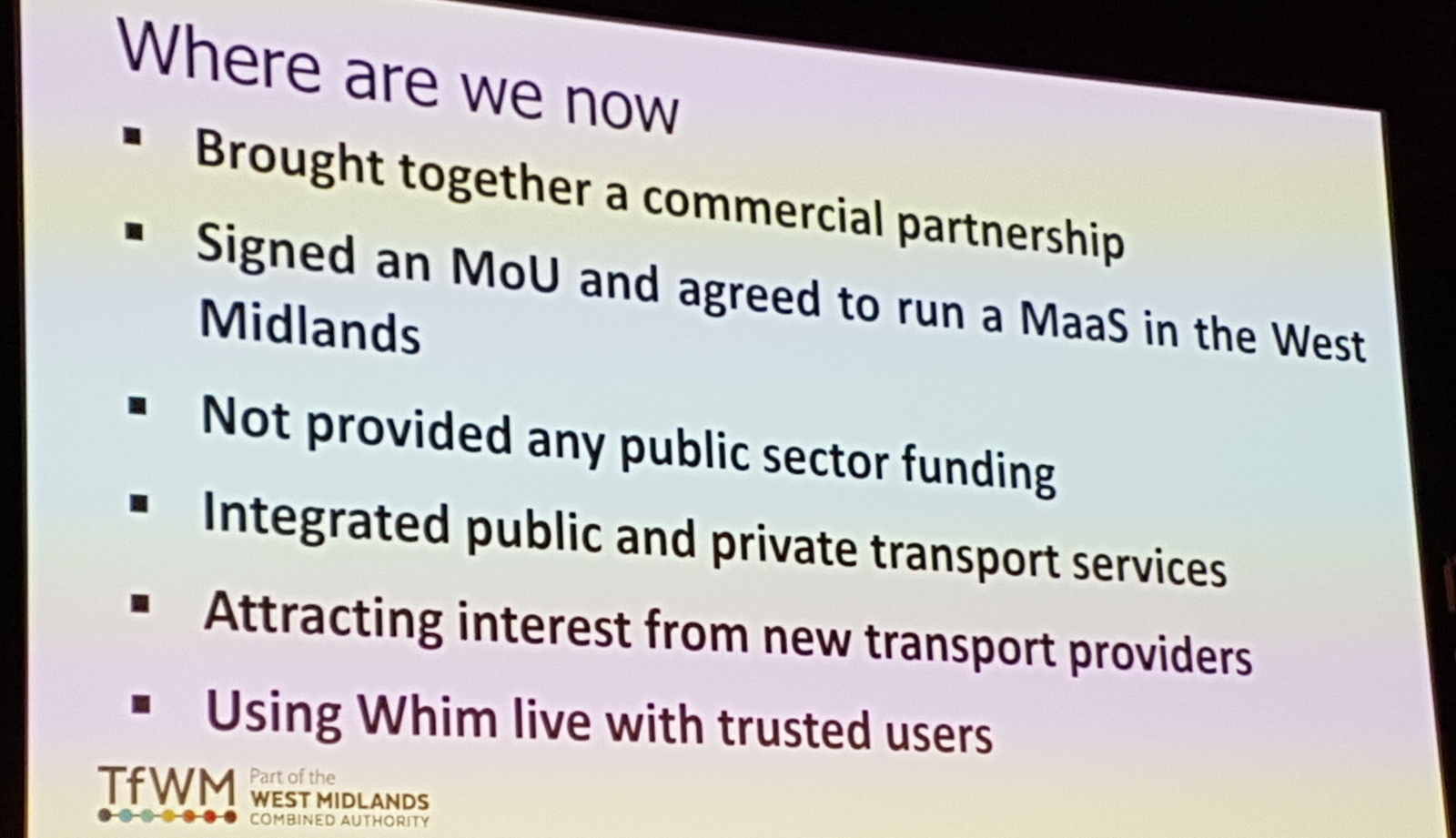 Status of MaaS project for West Midlands, UK  Source: Chris Lane, Transport for West Midlands
Look to Transport for West Midland who is using the experience from MaaS-Global to pave the way to the first MaaS implementation in the region.
Take Away #5: Having private companies entering the shared mobility space requires city and regional authorities to revisit their governance role: Leading or enabling?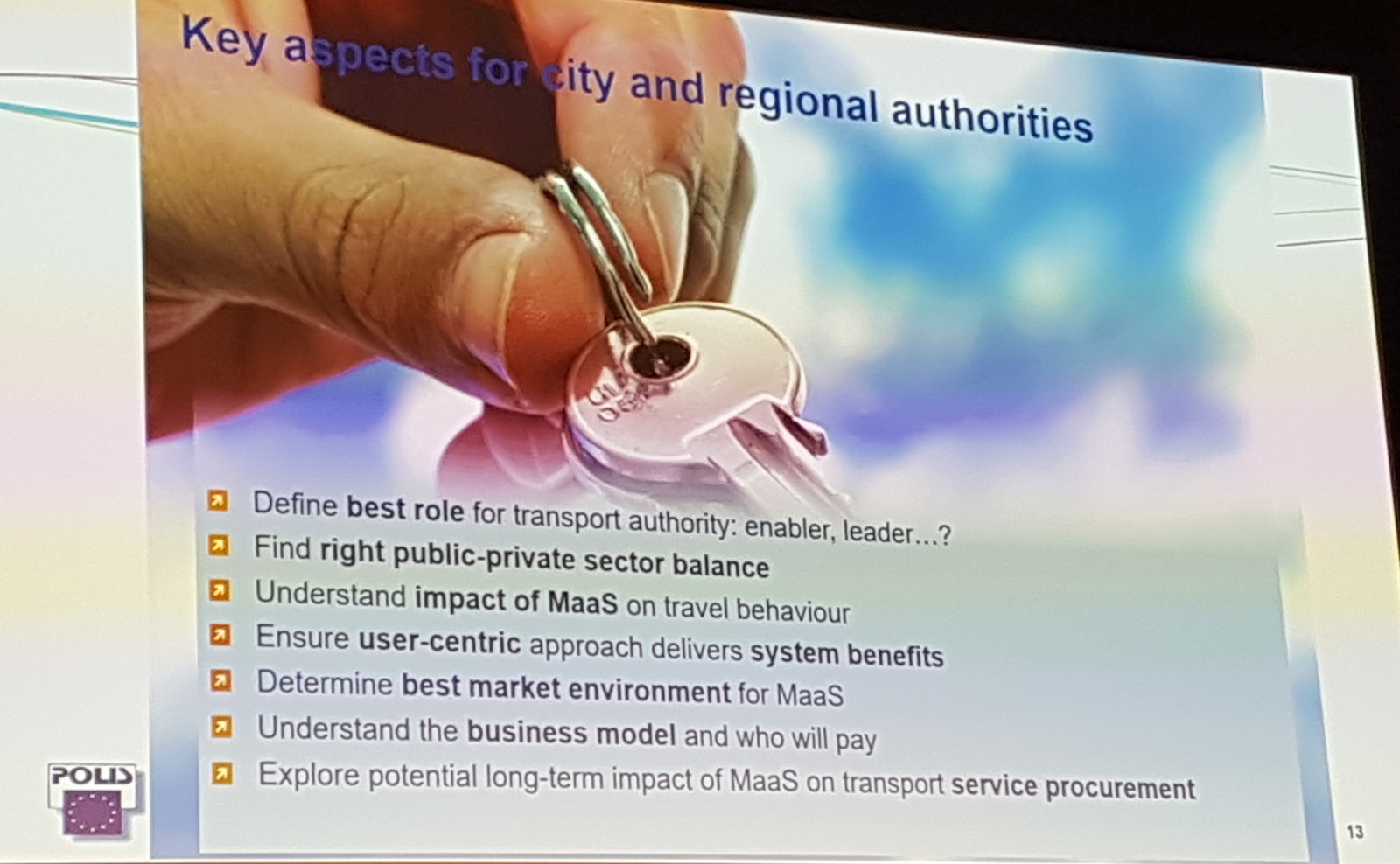 Governance of MaaS?                    Source: Luana Bidasca, Polis
In a MaaS ecosystem the difference between public or private operated shared mobility is fading seen from the user point of view.
Polis (European Cities and regions networking for innovative transport solutions) tries to figure out how city and regional authorities handles the advent of the private sharing economy for mobility and MaaS. Will commercial MaaS dis-incentivize sustainable trips, result in higher costs for the user or transport provider and result in unequal service? According to Luana Bidasca, MaaS may create a disconnect between the user, transport provider and transport authority.
Comment: Traditionally public transport in Europe has been very regulated, planned and operated by the public authorities directly. Private companies have merely been involved as operators providing wheels and personnel. Sharing economy, MaaS, electric cars and buses plus autonomous vehicles in the horizon requires regulators and traffic planners to revisit the whole setup as change in mobility behavior is bound to happen.
The public authorities have the regulatory capacity for mobility. Finland has  erased and replaced the laws for transport of persons and goods to establish an open market for mobility whether public or private.  Will other European countries follow?
Take Away #6: Agreed "rules of engagement" or charter for an open MaaS ecosystem can help create the level playing field for the users, suppliers and regulators alike.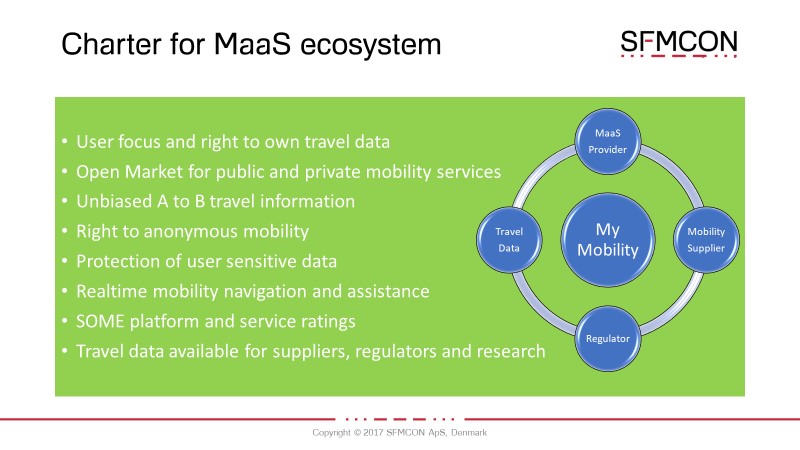 A charter for a MaaS Ecosystem.    Source: Søren Sørensen, SFMCON.
The charter for a MaaS Ecosystem has been compiled inspired by the MaaS projects in progress in Finland and elsewhere in Europe.
The user is central to the (Nordic) vision of MaaS. The charter needs to present an alternative to ownership of your own car, delivering the same freedom and ability to go from one place to another whenever and in privacy.
Also, the charter should define the way the open and fair market place shall operate.
The contribution of travel data to help improve the quantity, quality and performance of the combined shared mobility grid, is a powerful element of the MaaS vision. Refining the travel data to useful information –  both dynamic and historic – will create unprecedented value for users, suppliers, regulators and mobility planners.
Comments and final remarks:
MaaS is not only about smart technology. It is a question about governance and good business sense. The mission is to make the shared mobility grid a compelling and trustworthy alternative to the need of owning a car.
Can all the actors see the value in creating an open market for shared mobility services?
Without access to a broad variety of shared mobility within short walking distance the private car will remain the winner of freedom of mobility. How far are you willing to walk to get wheels?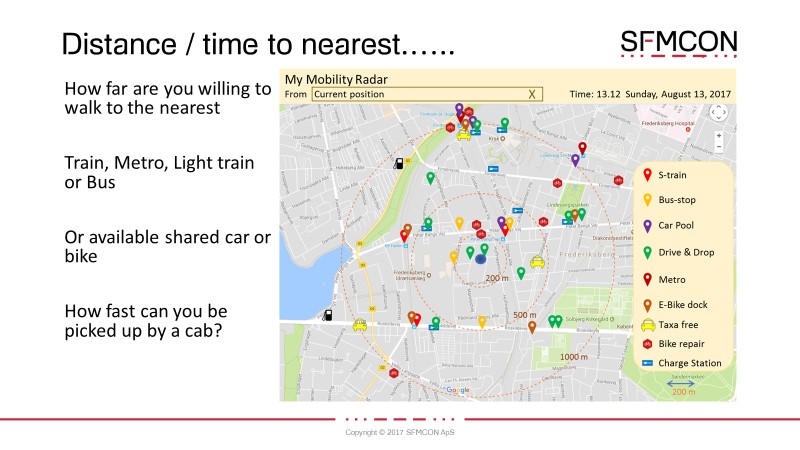 Further discussion and contacts:
How do we best accelerate use of shared mobility to reduce congestion and improve air quality in cities? Where to start and what are the pitfalls. Follow my blog here and my updates on LinkedIn.
My mission is to help facilitate better shared mobility and MaaS in cities and even in rural areas.  What is your challenge on shared mobility? Take the opportunity to open a dialogue directly with me here or email directly here.
Thanks, Søren.