Around 100 people participated in the workshop: "Mobility as a Service. Implementing New Mobility Schemes: Impact on Business, Operations and regulation" arranged by MaaS-Alliance  http://maas-alliance.eu/ and IRU https://www.iru.org/ May 3, 2017 in Brussels.

Public and private mobility providers, interest groups and policy makers continue the quest to figure out how to facilitate MaaS. Here are my major takeaways and comments from the workshop.
According to the program the MaaS Alliance is trying to define some guidelines and a common approach to MaaS in Europe and beyond. The work has been broken down to issues related to users, legal framework and standardization, and communications.
Disclaimer: The takeaways presented below are for discussion purpose only. Sources of information are provided, however as it was a workshop, all material is work in progress and does not necessarily reflect any persons or organisations official position.
MaaS Single Market
Take Away:  The single market workgroup definition of MaaS : "Mobility as a Service, or MaaS as it is commonly known, is defined as the integration of various forms of transport services into a single mobility service accessible on demand."
The workgroup offered some general guidelines to a single market for discussion: No exclusivity to any operator, open APIs, no vendor/operator lock-ins, no special arrangements and ownership of data.
The objective is generally to form an open marketplace where services are on display for the user and based on the users individual and unique mobility requirements she/he can shop the mobility that fits best.
Comment: There seems to be a pressure to ensure that it is me who owns my travel data. This in contradiction to the setup known from Google, Uber, and similar global platform providers where you basically must trade service for the right to your data and digital behavior. As it is now, Google knows exactly our whereabouts and most of the time also the transport form used and which shops etc. we have visited.
Google's business is to monetize on our data. As my whereabouts tells a lot about me I should have the right to stay anonymous yet still have the option of using shared services. So how can MaaS protect my privacy when and if Google infrastructure is behind the maps used.
MaaS is marketed as the cure for reducing congestion and improving air quality and quality of space in cities. Yet MaaS can only do this if the primary service providers deliver a coherent network of shared mobility services using renewable energy and that use of shared cars include incentives to share rides. Cities and infrastructure regulators should ensure that shared mobility solutions get priority over private cars.
You can get clean air and remove congestion in cities by banning use of fossil fuel and private cars for city-mobility. Tough, but it works – for the city. As an example Oslo is implementing car free city now.
MaaS can only contribute to deliver efficient and eco-friendly door to door shared mobility if both regulation and primary shared mobility service providers provides options for any door to any door mobility services that can compete with the services we know from just getting our car and go.
End users of MaaS
Take Away:  "Bill of Rights" for end users of MaaS is an important part of the framework for MaaS. What should they be? And where do you go if your rights as a MaaS user are violated?
Here are some of the issues identified
Data protection (consent, Privacy, ownership, compliance)
Convenience and quality (service promise, assistance, mobility roaming)
Accessibility (non-discrimination)
Cost and financial aspects (no lock-in, monitoring and informing users about cost, value for money)
Environmental (inform users about [carbon] footprint)
MaaS is a user centric mobility solution.  By use of cloud based tools the user can find and select the unique chain of public/private mobility modes which combined deliver the door to door journey following individual timing, cost and quality of service. The tricky part is that the MaaS provider is relying on the mobility service providers and the modal transition points to fulfil the service promise for the complete chain of mobility to create a journey.
Comment: Today some public transport eco systems actually delivers multimodal travels as the public part of a MaaS setup. The interesting question is whether public transport fully comply to existing user bill of rights. Public transport systems are typical highly proprietary and closed systems. Who takes care of the user in a multimodal setup especially when transferring between modalities and operators. How can MaaS be inclusive to all kind of users. Is it ok that MaaS is only for users with a smart phone and a payment account. These issues are the same as found in smart ticketing in public transport.
Until now information on travel history have either not been recorded or not aggregated into a common database accessible by many individuals. Open data is great and good for analysis and even sharing of dynamic data to improve quality of the mobility here and now. However even if my personal data are anonymized in the MaaS system it doesn't help much if you can analyze traffic to and from a geographical point (my house). A MaaS door to door system must protect the rights for individuals to travel without leaving traces that can tell whether somebody is home or not.
Take Away: Look to Sweden for an approach to MaaS driven by the actors
Samtrafiken in Sweden have until now acted for collaboration between Swedens PTA and PTO's. Samtrafiken is going through an evolution from public transport classic to public transport = passenger transport by shared resssources.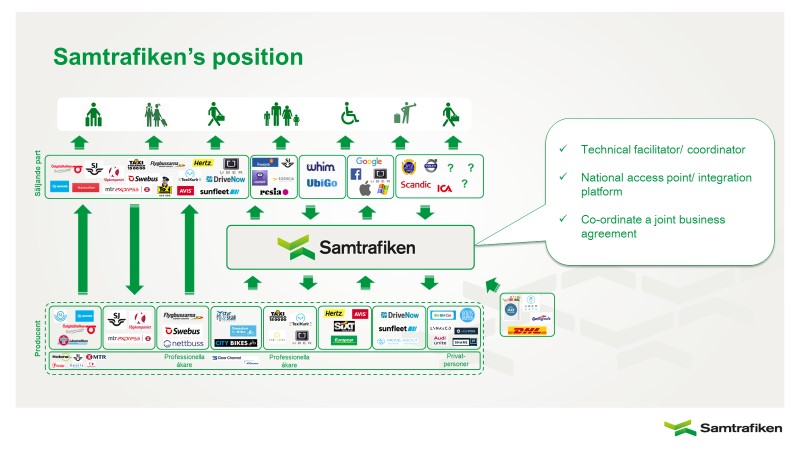 Note the multitude of logos for actors in the Swedish MaaS Ecosystem Source. Jens Tångefjord Brodin, Samtrafiken i Sverige AB. Sample slide from his presentation.
Comment: It seems that Sweden has a pragmatic view of establishing collaboration between the actors rather than wait for legislation. You don't need much regulation to agree on open data and API's plus protecting the end user travel data if you believe that a complete offering for shared mobility door to door will increase use of all participant's services.
After all, the whole idea is not to take market share from other mobility providers, but to deliver a better mobility service and cost than using a private car. In most cities and suburbs, the market potential for conversion from private to shared mobility is substantially higher than the current usage of shared mobility, biking and walking combined.
Be aware though, that in a chain of shared mobility to form the complete journey, quality must have priority in each link of the chain including modal transfer. The weakest link will define the overall perception of the attractiveness of the complete journey. Unfair for the other providers who delivered as expected but the user of the service may discard the whole travel chain for future travels – simply because the weakest link missed the opportunity to serve as promised.
Technical issues for deployment of MaaS
Take Away: MaaS is not just another App. The hard work is in back office. Specification on Core use cases and processes for the multimodal chain of mobility services based on a multitude of open data sources and business rules still in the works
The challenges for many cities and regions are that it is not possible for the user to get an overview of the options for mobility services. The mobility service providers are organized as individual organizations (silos) promoting, selling and delivering their service to the world. As such no one serves the user needs of getting all the way from door to door including that famous last mile. Changes are that you don't know how to get from door to door using shared mobility services but stays with something you know will do the job: your car, an expensive cab ride or simply stay home.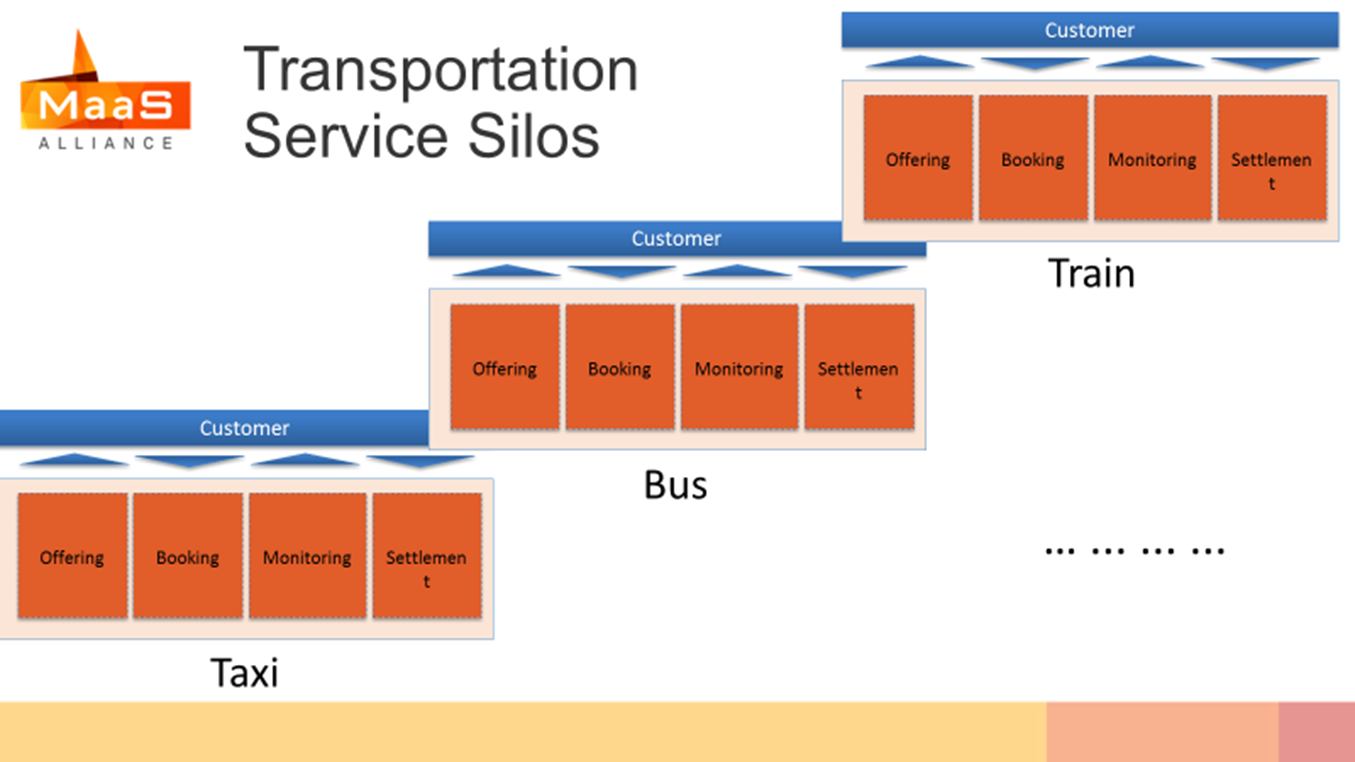 Transportation silos illustrating how the shared mobility is highly modal oriented. Source: Jukka Lintusaari, EiR University of Tampere & leader of technical WG of MaaS Alliance: Slide from presentation of Technical WG findings.
Comment: Multi modality inherent to MaaS shares same issues as how to create multimodal public transport. The numbers of modes in a MaaS just gets bigger and more different in planning, travel and payment. Up goes complexity and risks.
Some regions and countries have managed to deliver multimodal mobility for the public transport part. London (Oyster), The Netherlands (OV Chipkaart) and Denmark (Rejsekort/rejseplanen) to mention a few. Those solutions work, increases use and delivers better end to end travel services when you go for public transport – yet does not solve the last mile issue. Common for these solutions are that they were conceived long before we all got connected using smartphones and access to internet services and purchase. Multimodal, yes but rather different and proprietary architectures and governance models. Not to mention it took quite some time to design and implement.
Today we are used to buy almost anything on the internet: Music on Spotify, movies on Netflix, multi modal air travel on Momondo or your favorite site or airline, pizza with home delivery, almost everything on Amazon and groceries delivered when you want. You can also buy most mobility services online, even taxi services apps are appearing thanks to Uber. However, if you need to use more than one ground based mobility provider to provide the complete journey from A to B you are on your own as no one deliver the complete service promise. This is where MaaS comes in to play.
Take away: Keep monitoring what is going on in Finland related to MaaS.
It seems as the country has decided to be the cluster for MaaS from Legislation through research, current mobility providers and start up initiatives. It looks impressive from the outside.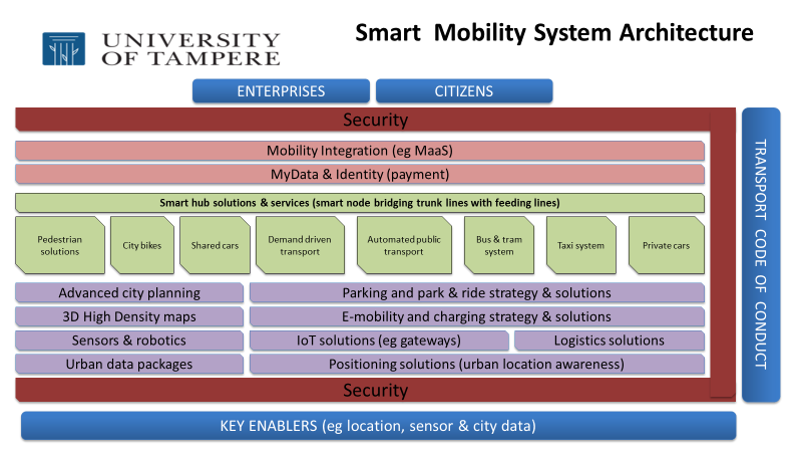 The Finnish view of the architecture elements of the Mobility as a Service concept. Source: Jukka Lintusaari, EiR University of Tampere & leader of technical WG of MaaS Alliance: : Slide from presentation of Technical WG findings.
Sampo Hietanen, CEO Maas Global Ltd, Finland, and a MaaS evangelist stated that he saw no need for public authorities and cities to invest in becoming a mobility as a service provider or financing. Focus should be on cooperation and active enabling of data, freedom to operate including reselling public transport services, access to private service providers for shared mobility services (Taxi, car rental, carshare etc.) and open API's to all information data relevant for planning, travelling and settlement.
The MaaS-Global app: whim.  Source: Sampo Hietanen, MaaS Global: Slides from presentation on Freedom of mobility
On www.maas-api.org you can find information on how MaaS Global try to help defining standards for API's.
Comment: The Finnish model for MaaS is basically to enforce an open market place for shared mobility services allowing aggregation and bundling and other service providers to create door to door solutions for end users. You can still buy your service from individual service providers if you like. The success of the MaaS providers depend of their ability to package complete solutions for travel needs to end users and negotiate reasonable commercial deals with mobility service providers for bringing more business each of the service providers.
How the business model is going to work for shared mobility services is yet to unfold in full scale. The user will expect the same or cheaper deals than buying individual and the service providers must be willing to let a third party sell some of their mobility capacity for a fee. The service providers should even see a commercial value of just get a referral from the MaaS provider even though the payment goes directly to the service provider.
Take away: Taxi Apps are popping up – even including opting for fixed price and payment before going.
If nothing else, Uber has been a wakeup call for the taxi business models everywhere. Now you begin to find apps where you can order a taxi to a destination, see the fixed price based on best routing and pay even before the cab arrives. AppTaxi Mobility Network, Italy showcased their appTaxi app.
Comment: The taxi business has historically been a highly regulated private operated business. You must have a license to operate, deliver service 24/7/365, accept all passengers and trips, use meters and regulated tariffs + many more rules and restrictions. Some places (Austria mentioned) you cannot operate a taxi service using prepaid flat fares as all rides must be metered. It is irritating that you don't know how much a taxi ride to your destination will cost. Also, if not on home-base you don't have a clue whether the cab driver is taking a detour to get a higher price for the ride. Knowing the price and having paid already, the cab drivers focus is solely on getting you to your destination using quickest and best route. When you have transparency on taxi pricing – do you need regulation or can you rely on the market to establish the taxi fare from A to B?
Legal and Regulatory aspects
Take away: There is a lot of legal uncertainty in multimodal travel chains. However not always top of mind on MaaS entrepreneurs when inventing the future shared mobility schemes.
MaaS is a new way of organizing multi modal travel from door to door. It opens a door to a whole new array of passenger right issues. Who is to blame when something goes wrong in a multimodal private/public delivered travel chain. Tuuli Willgren presented a few eye openers: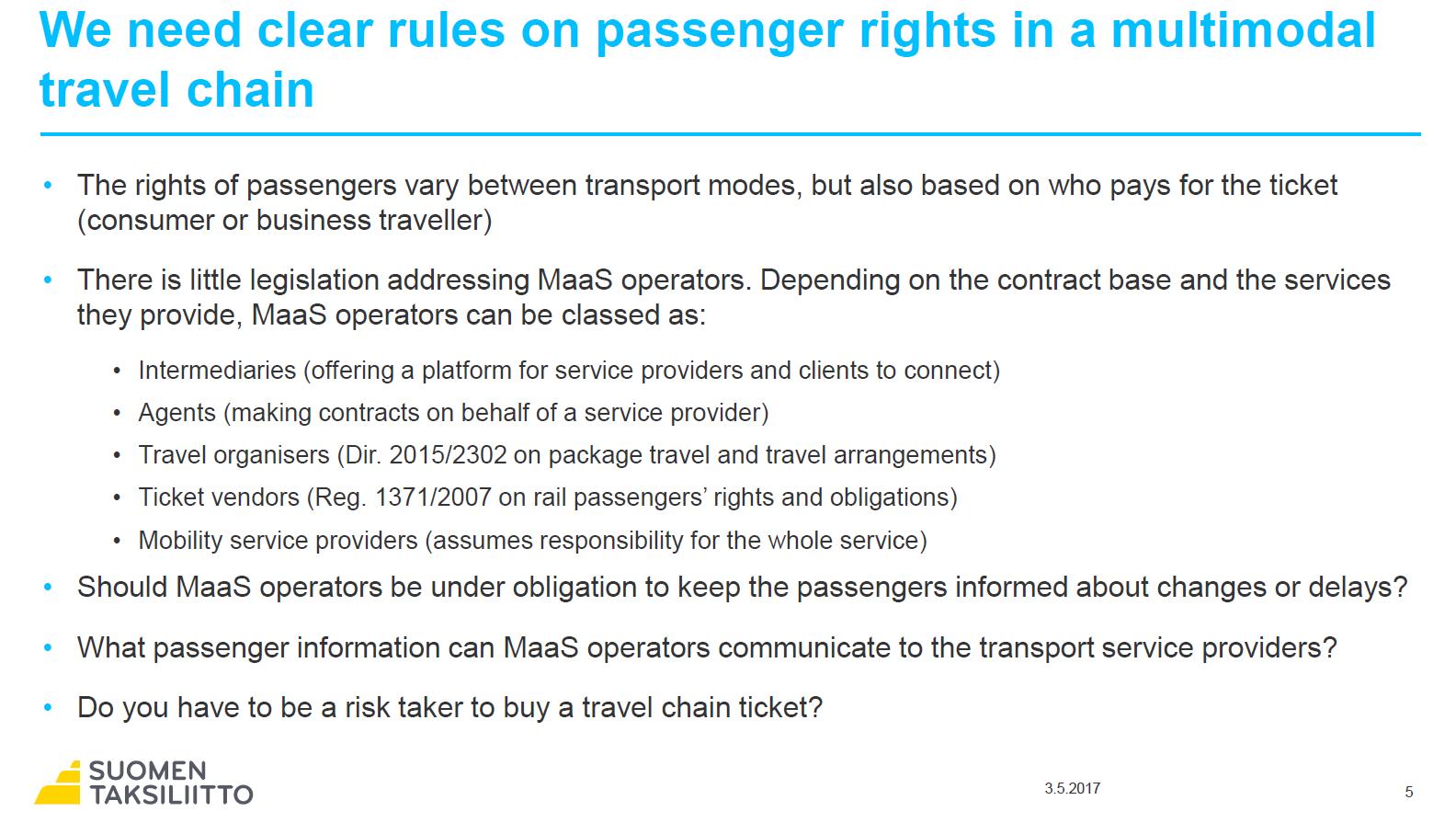 MaaS gives raise to quite a few questions related to passenger rights. Source: Tuuli Willgren, FInnish Taxi Owners Federation. Slide from the presentation: Legal aspects of MaaS.
Comments: Rules and legislation and passenger rights are sometimes seen as boring or necessary evils when entrepreneurs want to invent new services. Yet passenger rights regulations enforce the mobility providers to deliver a complete package including recovery from disruptions and compensations for failing to deliver as promised.
The passenger rights today are highly modal centric. This even goes for air travel where you are covered by two completely different set of passenger rights dependent on whether you have bought air travel only or a package including at least one night on a hotel.
Will MaaS rules for multimodal passenger rights emerge into a complete safety net covering from door to door, or a jigsaw puzzle of rules dependent on mode of transport and unclear transfer rules from one to another modality to complete the journey?
Take away: Something is bound to change when government deregulates mobility and transport and defines the framework for market access.
Krista Huhtala-Jenks from the Ministry of Transport and Communications in Finland could inform the audience that new legislation on Data utilization and regulation enabling digital services has been approved and will be in force Jan 1, 2018.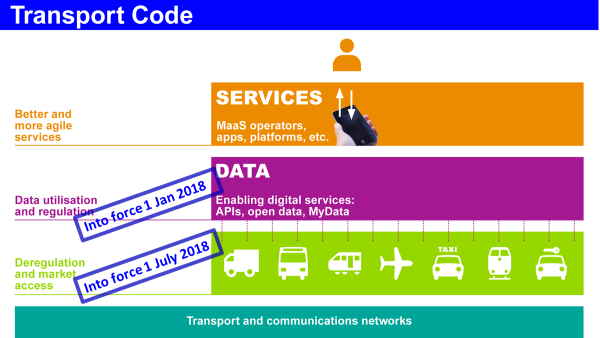 The Finnish new Transport Code is becoming law. Source: Krista Huhtala-Jenks, Digital Services and Mobility as a Service at Ministry of Transport and Communication. Slide from the presentation: Keys to digitalising the Transport Sector
Deregulation and market access has also passed parliament and will go into force come July, 2018. Finland will be the first country to disrupt current legislation and replace it with a framework utilizing open data, API's and MyData.
Comment: Finland is the first mover on legislation for mobility as a service. Now there is a whole country emerging as a lab for testing how mobility of persons and goods can take advantage of open data etc. The Finnish vision is that the access to mobility data will stimulate the market for new innovative mobility applications and services to end users delivered by private companies and startups.
As Finland is member of EU, the approaches and legislation could easily be adopted by other EU countries. Let us hope that there is a copy of the new legislation in English – Otherwise I'm afraid that it will remain a well-kept secret for most of us.
The remake of the Finnish transport legislation is quite comprehensive and includes all modes of transport. As it is law now the participants must be focused, not on if they want to participate, but how are they going to comply at the deadlines. There is a third option to stop operating and close the business – hopefully not so attractive. Less than a year to open data in a secure way requires quite some work to be done. Good luck to Finland.
Take Away: A good overview of the digitalized elements included in the Customer centric Mobility as a Service ecosystem as identified by the Finnish Ministry of Transport and Communication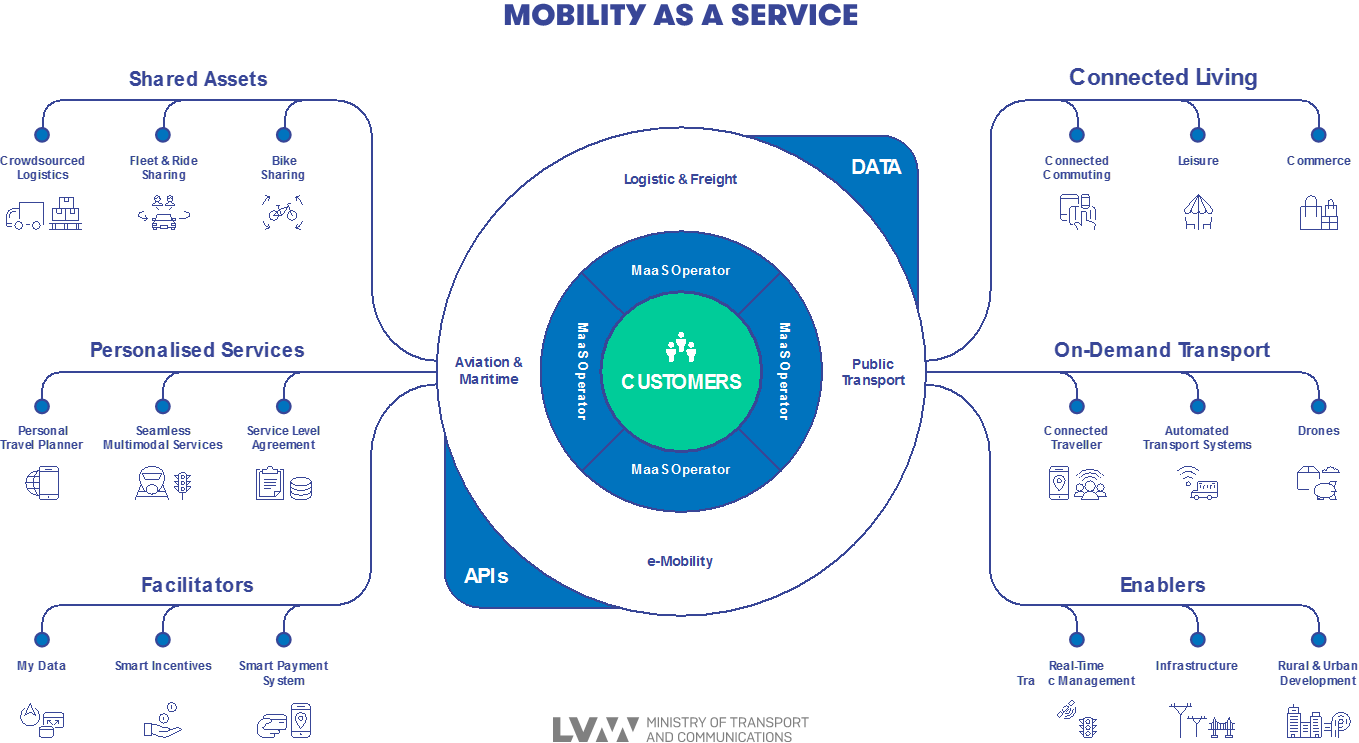 The Finnish overview of the Mobility as a Service – a customer centric approach. Source: Krista Huhtala-Jenks, Digital Services and Mobility as a Service at Ministry of Transport and Communication. Slide from the presentation: Keys to digitalising the Transport Sector. 
Note that the span of Mobility as a Service included is quite comprehensive.
Final comments:
Interesting how many different organisation is coming together to work for the concept of mobility of a service. It is al about going from A to B. In your car it is the same you have to do whether you are in Helsinki, Berlin or Lissabon. Find your car, enter the address to the GPS and follow the instructions. Voila.
How can we make shared mobility and MaaS work as intuitive and seamless and deliver a better overall mobility experience so you may even consider to give up at least your second car?
Further discussion and contacts:
What do you think about Mobility as a Service. Discuss with Søren and others on LinkedIn or take the opportunity to discuss further directly with Søren about the evolution of smart mobility.  How to reduce the risks inherent to create and implement your next-generation smart mobility scheme while simplifying the user experience further. E-mail to info@sfmcon.com with contact details and topic or challenges you are facing.