Inspired by how IT service providers try to explain acronyms like IaaS, PaaS and SaaS as analogies to pizza¹ and cars,² here is a graphic of the various Car as a Service – CaaS options for mobility. Most of us assumes that owning a car is a must for freedom of mobility. Changes are that you can outsource some or all of the administration, management, cleaning an repair of a car and still get in the drivers seat. More interestingly, you can  free up time and money for the family and reduce number of cars in a city if you opt in for shared car mobility schemes.
From full ownership of a car through increasing levels of car as a Service options
Car Owned
We tend to forget what it takes to own a car and keep it ready for action. If something in the car fails or need repair the burden is on you. New vehicles have warranty schemes in place, yet you have to put time aside to drive your car in for repair. Additional cost and risk is on you for maintenance, repairs and resale value.
Car Leased, Car Rental & Taxi
Your only alternative to your own car has until recently been traditional car rental or taxi. Car leasing has picked up in recent years and is now a competitive offering to buying and owning a car if you need to have access to a car 24-7.
Car Share
As we on average only use cars 5% of the time, there is a huge potential for sharing the 95% idle time. The advent of sharing economy using platform services has resulted in at least two timesharing schemes for cars. Fleet managers now provide car share models in cities. Walking to the nearest car share pool may even be shorter than the walk to where you can find space to your own car.
City Car – drive and drop
The city car is he latest entrant on the market. Fleet Managers distribute a (large) number of cars in a city where you can pick up and drop the city car anywhere within a geo-fenced area. You only have to open an account for the scheme, including payment instructions and documentation of a valid driver's license. Your smart phone is all you need to find, unlock and lock the car. As long as you live inside the geo-fenced area, you can drop the car outside your door.
1 shared car takes 10 private cars away from the city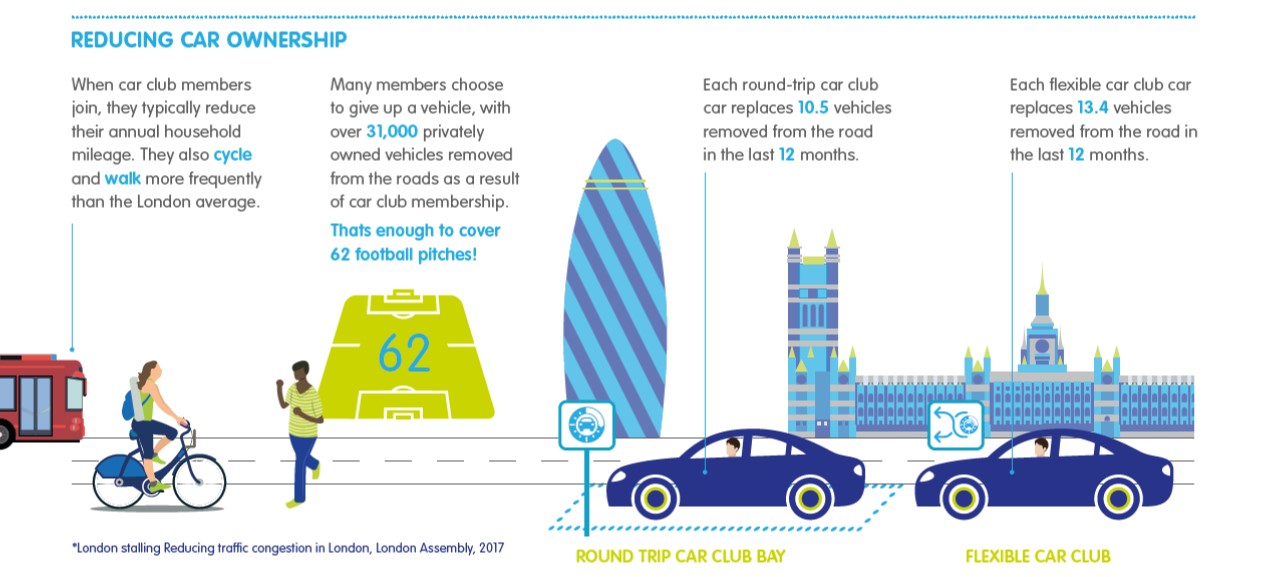 Reduction of car ownership when joining car share schemes in London. Source: Carplus.org.uk 
Shared car services results in fewer cars parked in the city. Most recent survey by UK Carplus finds that each shared car put in operation in London result in more than 10 private owned cars disappear from the streets. More interestingly it also seems like car share scheme users reduces their total annual in car mileage plus cycle and walk more. Hint: Check carplus.org.uk for more interesting statistics on shared mobility in the UK.
Use of empty seats in single occupancy cars to reduce congestion
Independent of ownership of cars you still see mostly single occupancy cars in the city. This is the most efficient method of getting congestion and gridlock. As all drivers are moving 3-4 empty seats around in the city, you can easily do the math on car volume on the street if 2 to 4 single occupancy car drivers agreed to share the ride in one of the cars. The challenge is how to make arrangements for ride sharing.
Ride Sharing
Recently the platform technology and online collection of data allows drivers to announce empty seats available going from A to B. The service provider will match empty seats and demand for rideshares going the same direction up to the minute of the empty seat passing by you. The inconvenience is thereby minimized. Check examples on ridesharing schemes here: GoMore.dk and uberPOOL.
What do you think?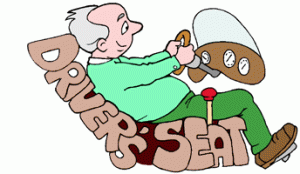 If you live in a city with a decent level of shared mobility services available then what is your real reason for keeping your own car?
Many of us truly enjoy being in the driver's seat. How important is it for you to own that seat?
Note 1: Albert Barron: Pizza as a Service        Note 2: Dave Williams: Car as a Service
Further discussion and contacts:
What do you think about Mobility as a Service. Discuss with Søren and others on LinkedIn or take the opportunity to discuss further directly with Søren about on how to reduce the risks inherent to create and implement your smart mobility scheme while simplifying the user experience. E-mail to info@sfmcon.com with contact details and topic or challenges you are facing in creating smart mobility eco systems.