MaaS takeaways from the 12th ITS European Congress June 19-22 – ITS beyond borders, Strasbourg, France.
I followed the "Mobility Services – From Transport to Mobility" and "Freestyle" tracks, and was privileged to be part of the Dragon's Den for MaaS panel. (separate report will follow)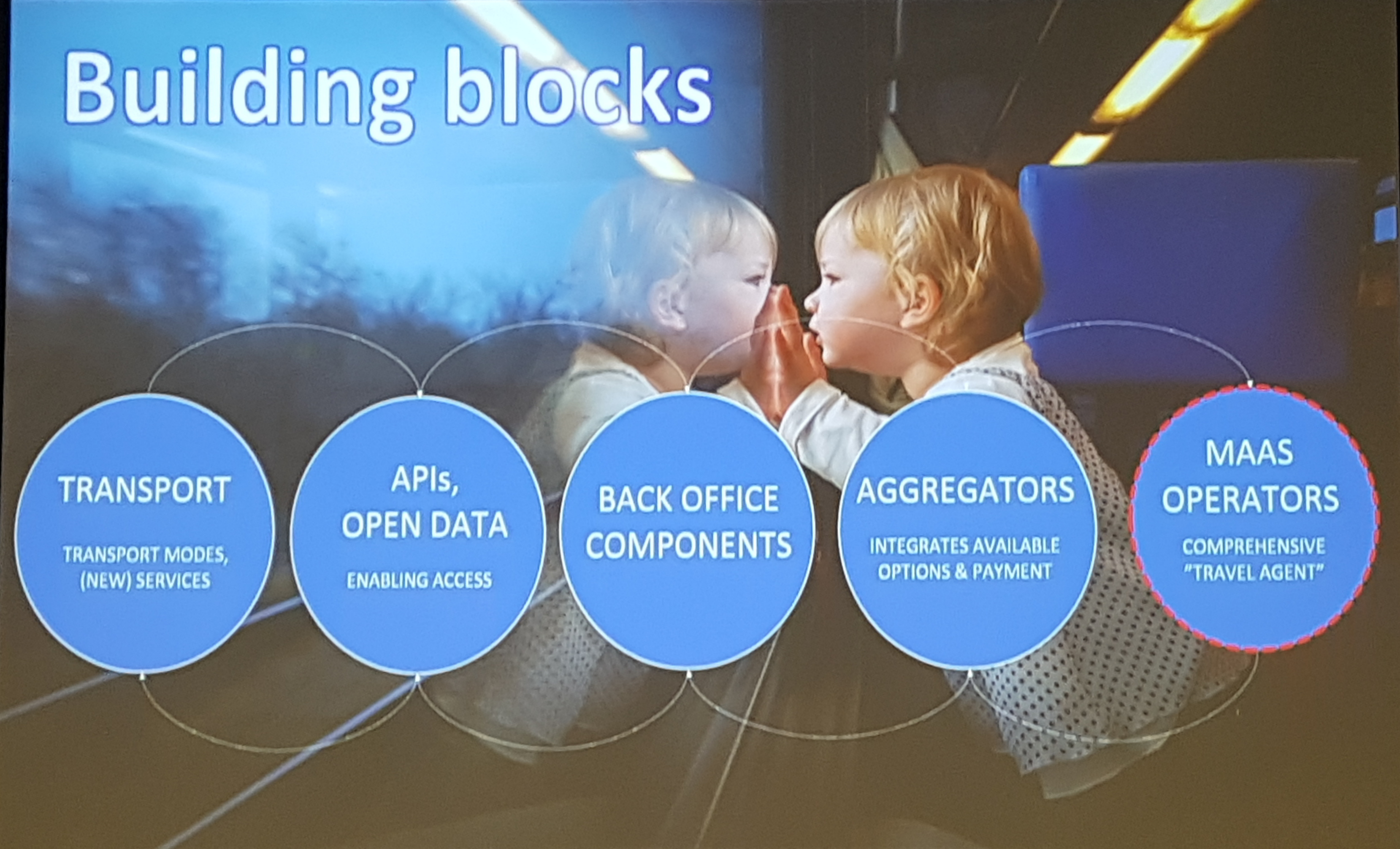 MaaS slides can be beautiful just to look at: Kudos to Sami Sahala, City of Helsinki Finland
My top 3 takeaways from the sessions:
No 1. "Data is the new oil" Sami Sahala, City of Helsinki Finland.
Comment: Thank you to Sami for using this statement. It was first stated in 2006 by Clive Humby according to Quora https://www.quora.com/Who-should-get-credit-for-the-quote-data-is-the-new-oil .
" Data is the new oil. It's valuable, but if unrefined it cannot really be used. It has to be changed into gas, plastic, chemicals, etc. to create a valuable entity that drives profitable activity; so must data be broken down, analyzed for it to have value."
Companies like Google, Uber and Facebook are based solely on the new oil. So is MaaS.
The Finnish school of MaaS includes that all data recorded for my travel is my data (my oil). I decide who I want to share my whereabouts with (opt in) and in exchange for what – and very importantly I can stop use of my personalized data anytime.
MaaS infrastructure should allow me to travel anonymously from door to door. Travel references or tokens can be related to me in those few instances where it is necessary for validation, check of valid driver's license and payment. Learn more about the Finnish MYDATA initiative here:  https://mydatafi.wordpress.com/
No 2: "Sometimes the best procurement is no procurement" Fred Zijderhand, Ministry of Infrastructure and the Environment – Rijkswaterstaat, The Netherlands.
Comment: "Public procurement challenges for facilitating innovative transport and mobility solutions" was the title of a "Free Style" session. Should you procure mobility as usual, use innovative procurement methods fostering more cooperation with private partners or simply not procure but stimulate in other ways.
No 3: Helsinki smart procurement: Avoiding procurement, Allocating funds differently – the Enabler model. Sami Sahala, City of Helsinki Finland.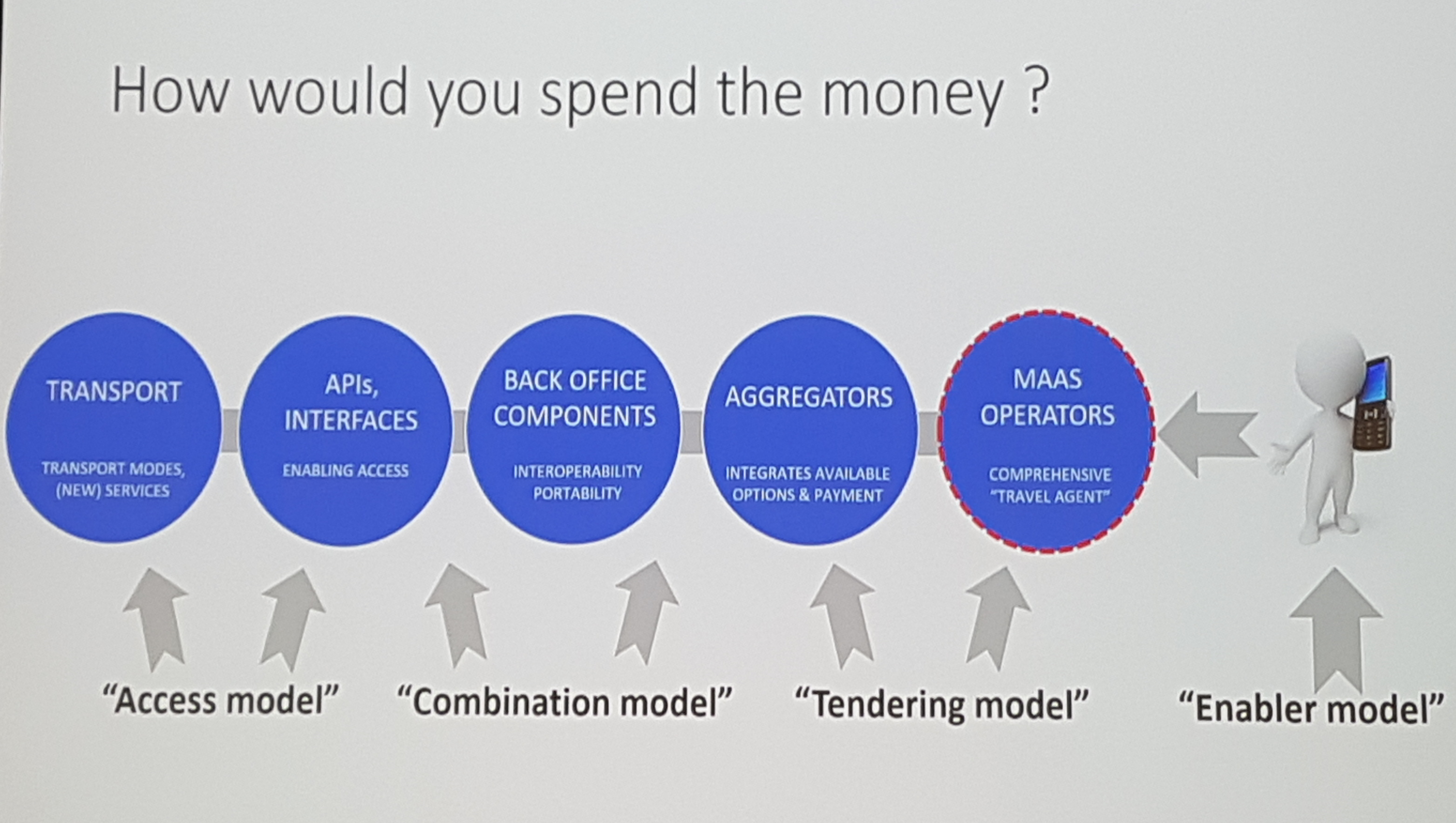 Where should public procurement invest in the MaaS value chain: Source: Sami Sahala, City of Helsinki Finland.
Comment: Cities budgets for public transport and mobility are substantial. The discussion is whether cities should take ownership of the MaaS value chain or enable the operation by "letting the money follow the user of MaaS". Also recognizing that the city typical is one of the biggest employers in a region it is also a heavy user of mobility. By allocating purchase of mobility through the MaaS value-chain the city helps the buildup of a healthy and competitive eco system for shared mobility benefitting the city and individual citizens travel budget.
Other notable slides, Facts and figures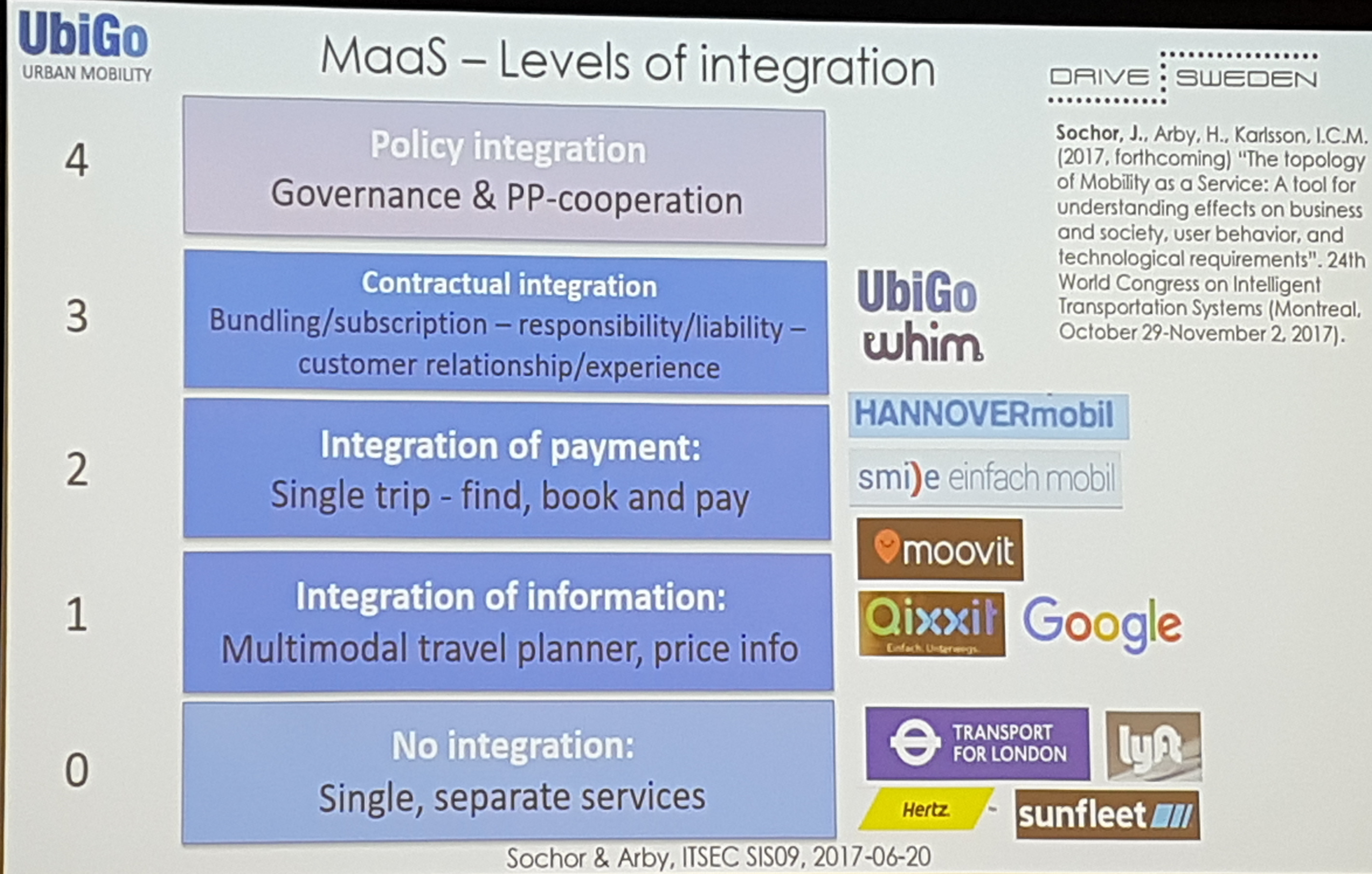 MaaS from zero to full integration: Source Drive Sweden and Ubigo
Comment: The MaaS levels of integration is a good illustration of the steps involved in establishing a full MaaS ecosystem. I would suggest that policy integration has to be part of each step from 0 to 3. Transport for London should be on level 3 as it implements one plan one ticket and multimodality. Rejsekort (DK) and OV Chipkaart (NL) in fact also implements MaaS level three for all public transport modes nationwide.
Achieving MaaS is a tour de force in governance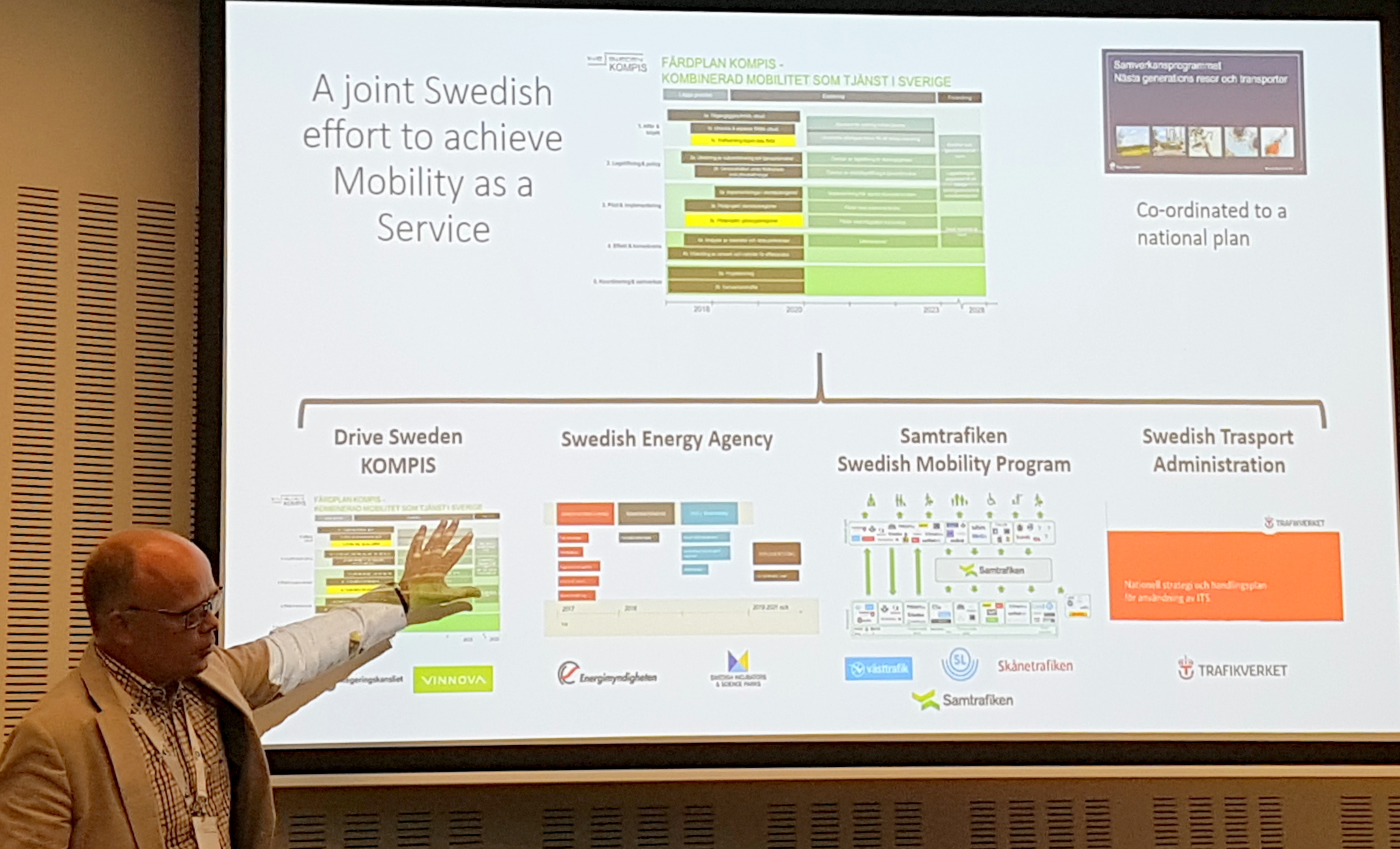 The Swedish approach of a coordinated national plan presented by Gerhard Wennerström, Managing Director, Samtrafiken in Sweden
Comment: The Swedish approach is ambitious and involves many actors and regulating bodies. It gives a good picture of the challenge to bring MaaS into reality. To make it easy for the mobility users a huge cooperation effort is required and a lot of work needs to be performed behind the curtains in the back office of the MaaS offering.
Each and every actor has to come to the conclusion that working for MaaS is good for their business or at least that supporting MaaS is better than staying outside. MaaS can only deliver if all or the vast majority of shared mobility providers makes their services available, visible and buyable on the MaaS marketplace.
The Finnish approach is to enforce openness of data and API by law. The Swedish model uses consensus between public and private actors to establish MaaS aiming at expanding the public traffic data infrastructure to include all modes of shared mobility. Public Transport in Sweden is leading the way to MaaS by allowing third parties to sell their tickets.
You may conclude that MaaS is not about technology. It is mostly about governance and willpower of actors and regulators. It is about cooperation across silos.
Customers want seamless travel experiences
Customer want seamless travel experience. Source Fluidtime
Good overview of MaaS seen from the customer angle. Seen from the outside it is obvious that you should get a complete and unbiased overview of your options to use shared mobility modes to go from door to door. Note the gamification element of selecting green mobility.
Comment: When talking about MaaS people often focus on the multimodal capabilities in MaaS technologies. In reality, we will try to avoid multimodality or minimize the chain of modes we need to transfer between to get to our destination. When flying I guess you will go for the direct flight if there is one. This is also why the private car remains a powerful competitor to multimodal shared mobility from door to door. The private car is single modal and deliver true seamless door to door mobility.
SNCF Mobilités: 80% of mobility in France is by individual car. 79% of SNCF customers are using smartphones. The smartphone is central to SNCF strategy for the personal mobility assistant.
Begoña Delicado, SNCF, suggest that a European integrated multimodal system ( for rail travel) only serves a marginal demand. How many citizens would use the system and will the travelers be ready to pay for its establishment?
Comment: SNCF sees integrated (international) multimodal ticketing as a cost increase rather than a ticket cost savings exercise. In comparison, all airlines concluded in 2004 that multimodal e-ticketing would reduce all airlines cost of ticketing. IATA reports that airlines globally save US$3 Billion per year compared to legacy ticketing methods.
About the Conference: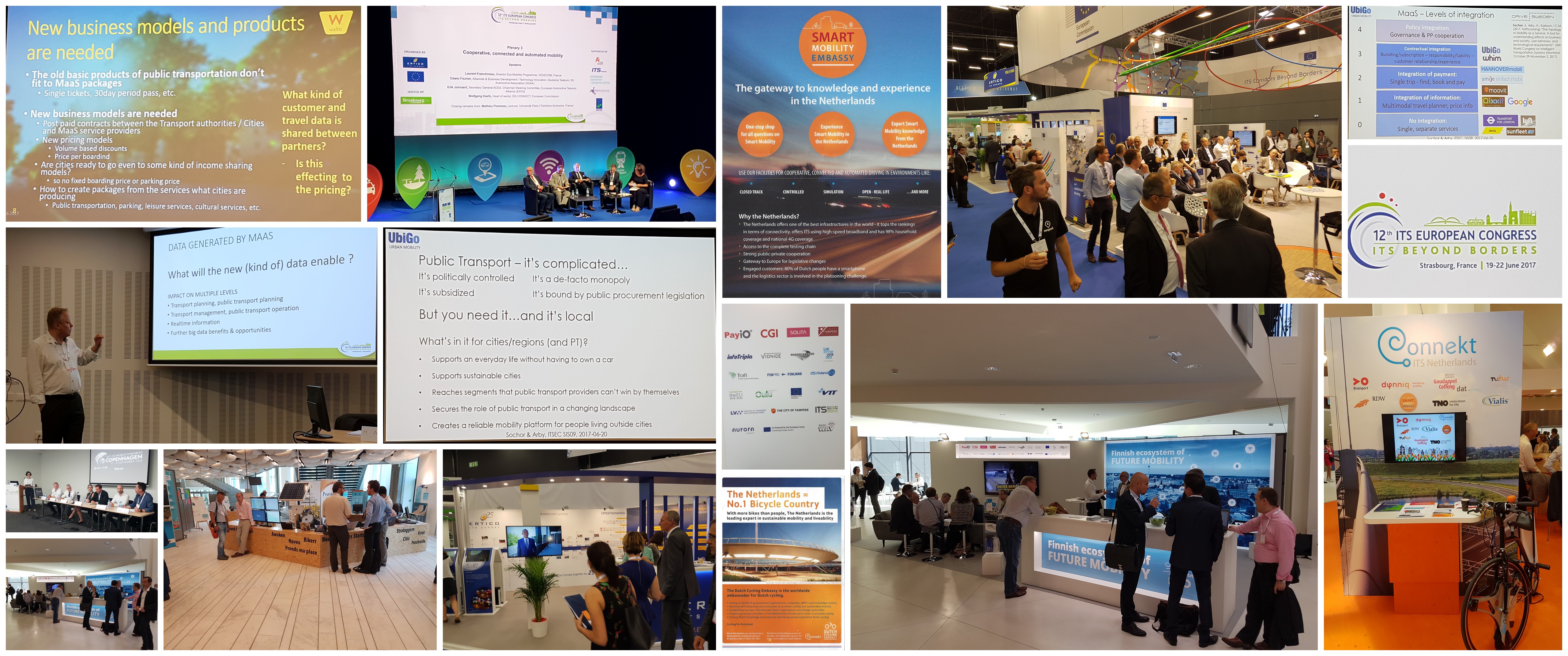 The conference is organized by Ertico – ITS Europe.  Participation and contribution in future ITS conferences recommended if you are considering MaaS. Read more about the conference here. 
7 tracks
2826 people
100 sessions
5000 M2 exhibition space
100 companies and organizations showcased
Next year the ITS world conference will be hosted in Copenhagen, Denmark.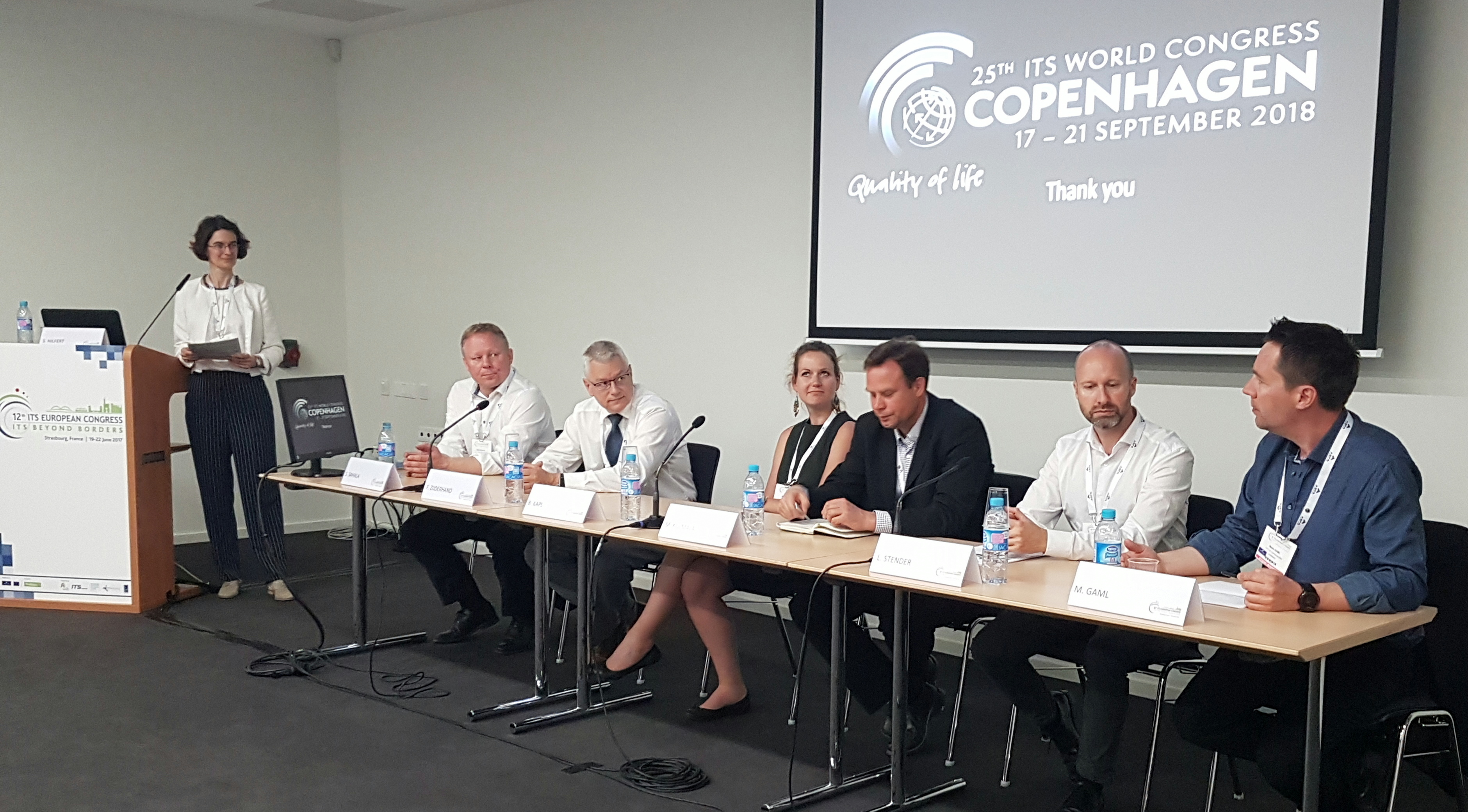 Look forward to more exciting ITS news and discussions from around the world in Copenhagen 17 – 21 September 2018.
See more about and book the conference here: http://itsworldcongress.com/ Already now some facts about mobility in Copenhagen and a video is ready for your viewing pleasure.
Further discussion and contacts:
What do you think about Mobility as a Service. Discuss with Søren Sørensen and others on LinkedIn or take the opportunity to discuss further directly with Søren Sørensen about the evolution of smart mobility.  How to reduce the risks inherent to create and implement your next-generation smart mobility scheme while simplifying the user experience further. Feel free to E-mail to info@sfmcon.com with contact details and topic or challenges you are facing.