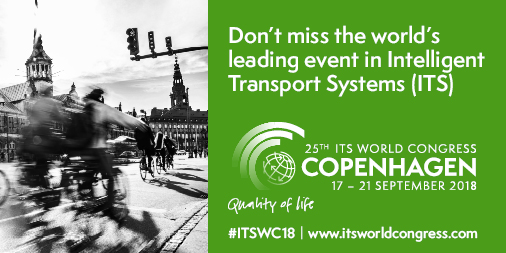 #ITSWC18 Looking forward to contribute to creating critical mass for MaaS on the upcoming ITS World Congress in my home city – Copenhagen.
I am contributing in three sessions all related to MaaS. Join me for discussion on how to further the concept of MaaS to enable freedom of mobility without having to own a car.
In between sessions my base will be at the ITS Denmark / Nordic Pavillion C3-020. Exhibition floorplan here. Catch me for a talk about the challenges facing the vision of shared mobility and MaaS.
Find the complete program for the conference here. Below find introductions to the sessions I'm involved in (taken from the programme):
Sep 18: Rural MaaS from definition to action SIS07
https://programme.itsworldcongress.com/timetable/#timeline/323/1968
I have the pleasure of being part of a panel moderated by Sami Sahala, Forum Virium, Finland
Intro:
Rural MaaS was first addressed in 2017 ITS World Congress, indicating great demand and similar challenges everywhere, but little in terms of solutions yet. This session highlights what has been achieved and what will happen next in MaaS for less-dense areas, and takes a step further into the definition of 'Rural MaaS' to provide structure for future actions.
Panel:
• Soeren Soerensen, MaaS Ambassador, SFMCON ApS, Denmark
• Valerie Lefler, CEO, Liberty Mobility Now Llc, United States of America
• Krista Huhtala-Jenks, Ecosystem Manager, MaaS Global, Finland
• Dwight Mengel, Chief Transportation Planner, Tompkins County Department of Social Services, United States of America
Sep 19:
MaaS Planning & Policy – TS35  – Enable Open MaaS by Stick or Carrot 
https://programme.itsworldcongress.com/timetable/#timeline/325/2294
Join this session to learn why MaaS is not about technology but about governance and will power.
Can we get public transit and private shared mobility providers to deliver multimodal shared mobility services within months rather than year simply by using MaaSs. The technology is there but the major obstacles are governance and will power. Is the only solution the Finnish model: Open MaaS by lawmaking – the stick? – or is there a carrot way too? The incumbent mobility suppliers is used to "own" their customers and does not necessarily see the benefits of having an extra part (The MaaS agent) in the value chain between them and "their" customers. The necessity for the shared mobility actors to come together to present a compelling alternative to the private car is presented and discussed. To create a level playing field for a shared mobility ecosystem including MaaS, a set of rules of engagement or charter is needed. An example is introduced as the carrot method or MaaS as common business sense.
I am going to talk about the Red versus the Blue Ocean strategy for Shared mobility actors. Will it remain a lost battle to convince car-owners to give up ownership and become shared car/mobility users?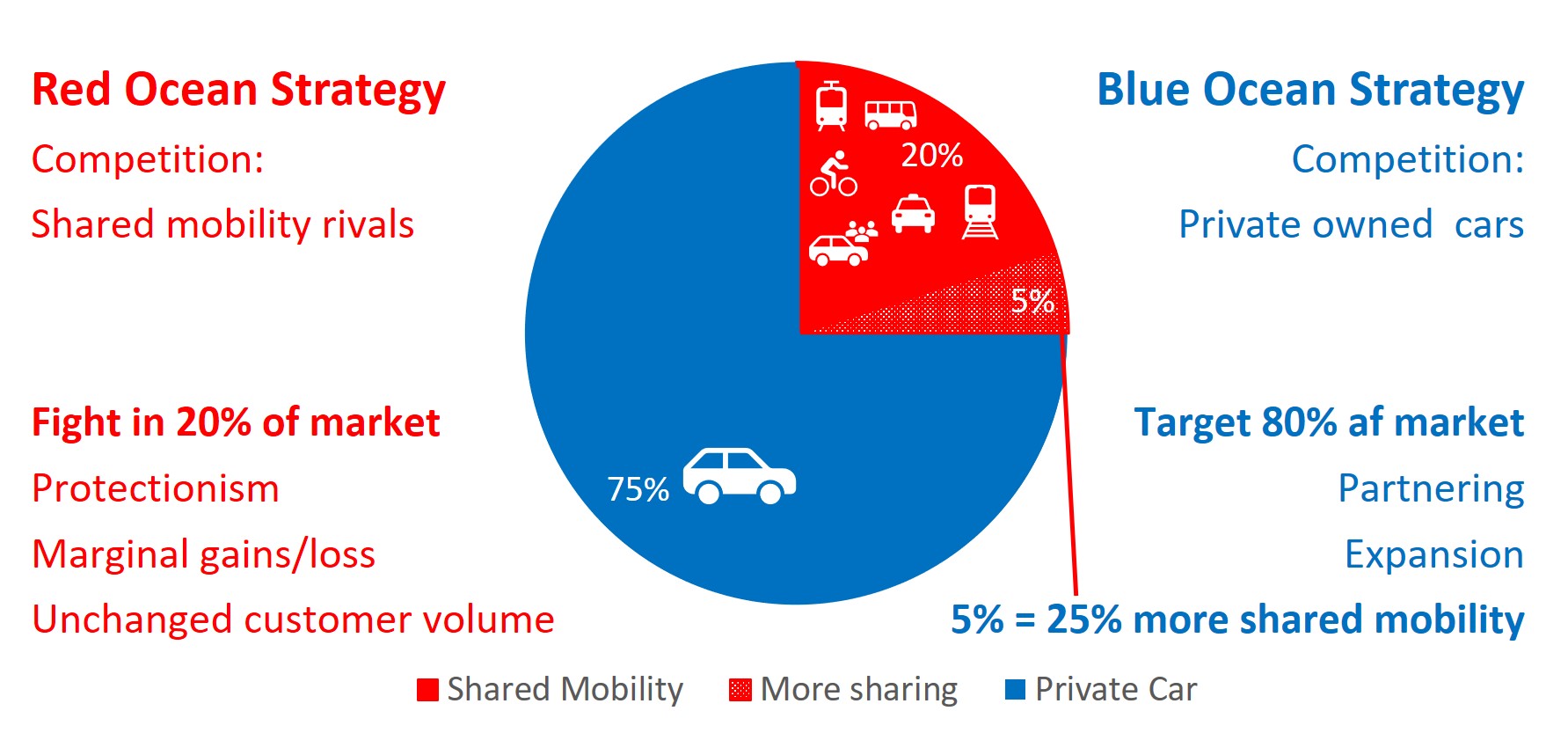 Sep 20: Dragon's Den – MaaS Service Promise and the future of Public Transport – SIS75
https://programme.itsworldcongress.com/timetable/#timeline/326/275
Intro:
The concept of mobility as a service (MaaS) came storming in a few years back and is currently a very hot topic. MaaS promises to deliver the freedom of mobility by combining various digital public and private mobility services and creating multimodal, sustainable and seamless mobility experience for the customer. MaaS is still its infancy, but the concept aims to provide, and guarantee a truly feasible alternative to the ownership of a private car. As with any change, overcoming the administrative, organizational and traditional operating practices while gaining public understanding and acceptance is the major challenge. This fully interactive session will bring together leading MaaS and public transport experts and service providers to discuss the MaaS service promise and relation between public transportation and transport services offered by the private sector. The format of the session is called "Dragon's Den" meaning that the session will be interactive and audience is expected to contribute and pose questions to the panelists and put a real pressure on them. This is the event where we implore you to play devil's advocate.
I have the pleasure of moderating the Dragon's Den and the panel includes the following experts:
David Adelman, VP of Business Development, Via, Via, United States of America
Richard Harris, Director Europe, Ohmio Automotion, United Kingdom
Lam Wee Shann, Group Director Technology and Industry Development, Land Transport Authority, Singapore
Erdem Ovacik, CEO, Donkey Republic, Denmark
Bjarke Fonnesbech, CEO, Letsgo, Denmark
Laura Eiro, Director of Markets Unit, Finnish Ministry of Transport and Communications, Finland
Join this session and put the panel under pressure by your tough and sharp questions. The panelist will have a max of two minutes to present their position – the rest of the time is for you to challenge the panel. My goal is to make this session the most talked about session on the congress.
See you in Copenhagen at ITSWC18?
I hope to see you in Copenhagen. Do make an appointment in advance to meet with me on Linkedin or email sos@sfmcon.com
Do get a chance to try some of the shared mobility options in Copenhagen while you are here. Easy to download apps on your smart phone. If you need a taxi try Moove which allow you to order, see price for your journey and pay even before the taxi arrives. Contact me if you need assistance or independent advice on any shared mobility options in Copenhagen.