The first major milestone (Level 1) is fast approaching for the EU regulation to facilitate Multimodal Travel Information Services (MMTIS) by opening mobility data listed through National Access Points.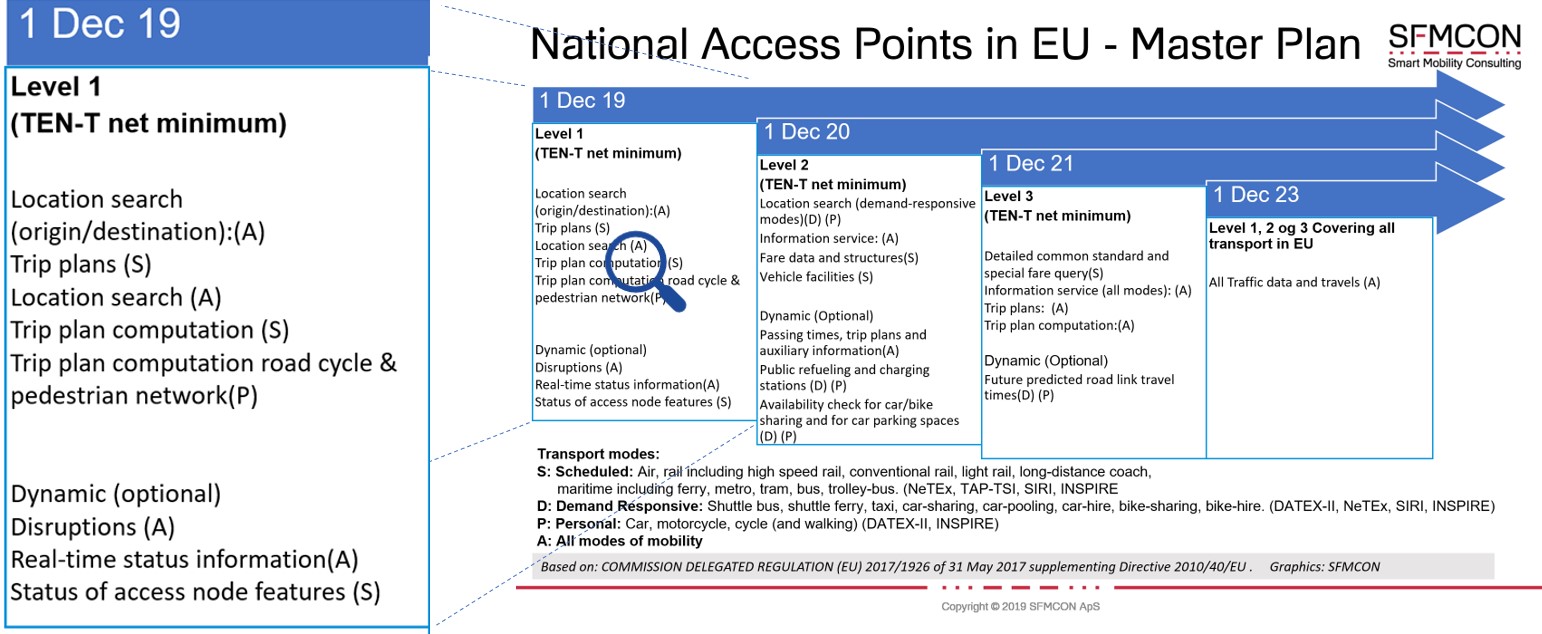 Fig: Masterplan for the miletones of the MMTIS regulation: Level 1 focus on Scheduled modes of transport, Level 2 Demand responsive modes and fare data, Level 3 All data categories covered for static data at least for TEN-T and finally Dec 23 full impact of the MMTIS regulation covering all modalities including  dynamic data
December 1, 2019 data related to location searches (origin/destination) and trip plan computation for both scheduled and personal modes of transport shall be made available in harmonized formats.
Note that trip plan computation includes bicycle and pedestrian networks.
Dynamic data recommended to be supported already December 1, 2019 includes (road / tracks blocked etc.), real time status information (on/off schedule, traffic updates etc.) for all modes of transport.
Up to date Status for access nodes (stations, bus stops) for platform information, accessibility, operational lifts etc.
We are already used to get dynamic updates through GPS in cars and updates through radio and apps and static and dynamic data are also important for people to navigate through scheduled modalities within regions.
The MMTIS regulation aims at ensuring that reliable open trip planning and real-time navigation from origin to destination can facilitate seamless travels even across otherwise incompatible regional and National mobility ecosystems.
IATA standards are the foundation for global multimodal air journeys, all in one ticket and price.
DATEX-II standardizes navigational information for road traffic allowing planning and navigation all over Europe which all car users today benefit from.
Can NeTEx and SIRI advance scheduled and DRT modes of transport to become visible in a pan European digital map and facilitate easier travel planning across regions and borders? The demand for alternatives to short and medium air travel and alternatives to the private-owned car are increasing.
When do you think NeTEx and SIRI standards will be the foundation for better end user planning and navigation for multimodal travels near you?
More on the impact of the MMTIS NAP regulation?
For independent advice and consulting on the MMTIS regulation, what it takes to comply or inspiration to how to make use of the open data feel free to contact me anytime on sos@sfmcon.com.